Online Pastoral Care
The Online Pastoral Care coordinator is available to online and nonresidential students as needed and serves in a variety of capacities including referrals to appropriate resources for counseling when requested, pastoral care and prayer, support and care during emergencies or intense situations, support for D.N.A. Groups, and coaching for D.N.A. Group Leaders. Communication will be via online interactions including email, social media (online groups), Zoom or other meeting protocol. Email pastoralcare@asburyseminary.edu for more information or to speak to the Online Pastoral Care coordinator.
Contact
Rev. Wesley Bolden — Pastoral Care: Non-Residential Students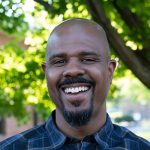 Wesley joins the Asbury Theological Seminary Formation Department with a broad array of ministry experience. He has served in church revitalization, campus ministry, pastoral leadership, church planting, ministry coaching and consulting, and project management. He is passionate about supporting men and women who have committed their lives to serving God through the church.
Wesley grew up in Atlanta, GA and is a graduate of Columbia Theological Seminary (MDiv) and Princeton Theological Seminary (ThM). Wesley currently lives in Wilmore, KY with his wife, Kim, who is a student at Asbury Seminary. During his free time, Wesley likes to go hiking and drink good coffee.
---
Rev. John Robert Black – Online Pastoral Chaplain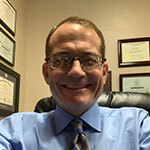 My name is John Robert Black and I'm honored to serve as a Pastoral Chaplain for our online students! I'm happily married to my wife Jennifer and we have 4 children. I'm definitely a "family man" and love doing anything with my wife and kids. My hobbies are anything outdoors, sports, ziplining, hiking, exercising, movies, musicals, reading, and BBQ. I currently serve as the Senior Pastor at St. Luke-Simpson United Methodist Church in Lake Charles, Louisiana. I love Jesus and believe Asbury is the best seminary in the country. I graduated with an MDiv (2006) and DMin (2016) from Asbury and I'm so thrilled to work at our beloved school. I'm here to serve and can be reached at 1-866-PASTOR-4.