Dr. Craig Keener Videos
Ministry Before a Holy God
Dr. Keener expounds on on Isaiah 6:1-8 in this special chapel message at Asbury Theological Seminary.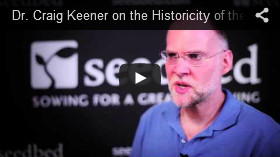 Historicity of Acts
With the release of his new book "Acts: An Exegetical Commentary" (Baker Academic, 2012), we sat down to with Dr. Craig Keener to discuss the book of Acts as history.
---
Pentecost
Dr. Craig Keener here introduces the meaning of Pentecost and the Spirit in the book of Acts.
---
Romans
How does Paul frame salvation in the book of Romans, and what do ethnicity and the historical circumstances of the 1st century have to do with it? See this Seven Minute Seminary by Dr. Craig Keener.
---
Water imagery in John's Gospel
Dr. Craig Keener goes through the Gospel of John highlighting all of the water imagery and explaining its significance.
---
Matthew and the Great Commission
The Great Commission at the end of the Gospel of Matthew includes the verbs: "going, baptizing, teaching." In this Seven Minute Seminary Dr. Craig Keener shows how this climax is connected to the rest of the book.
---
The Gospels as Ancient Biography I
---
The Gospels as Ancient Biography II
---
The Gospels and Oral Tradition
---
Miracles
Presented by Craig Keener in conjunction with Tactical Faith at the 25th annual Biblical Studies Lectures, Beeson Divinity School, Samford University
---
Miracle reports in the Gospels
---
The Disciple to the Nations: Matthew's Missiology
From the opening of the 2014 Biblical Studies Lectures at Beeson Divinity School, Samford University, A Gerow Hodges Chapel
---
Jesus the Healer
This is Craig Keener's plenary session from the 2013 Light the Fire Conference.
---