Dr. Jason Vickers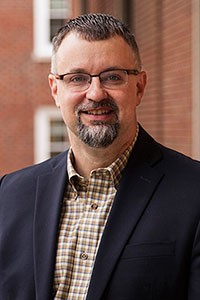 Professor of Theology
Prior to coming to Asbury, Dr. Vickers taught theology at United Theological Seminary (United Methodist) in Dayton, OH and Hood Theological Seminary (AME Zion) in Salisbury, NC. Dr. Vickers is an ordained elder in full connection on the Western NC Conference of the United Methodist Church, past president of the Wesleyan Theological Society, and current editor of the Wesleyan Theological Journal.
Dr. Vickers is the author or editor of ten books: A Wesleyan Theology of the Eucharist (2016), the Cambridge Companion to American Methodism (2013), The Sermons of John Wesley (2013), Minding the Good Ground: A Theology for Church Renewal (2011), the Cambridge Companion to John Wesley (2009), Wesley: A Guide for the Perplexed (2009), and Invocation and Assent: The Making and Remaking of Trinitarian Theology (2008).   
An avid outdoorsman, Dr. Vickers enjoys hunting, fishing, hiking, and camping. He resides with his wife, Lacey, and their three children, in Versailles, Ky.
---