Extension Sites
Colorado Springs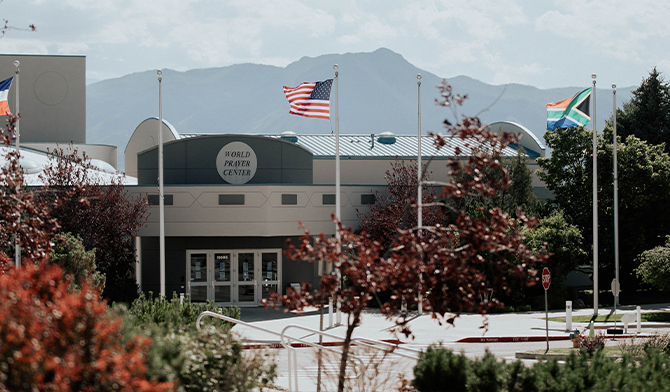 Asbury Seminary's newest extension site is in Colorado Springs, Colorado, and it's offering courses for the Fall 2020 semester! The Colorado Springs Site is located just off of I-25 on the north side of Colorado Springs—on the front range of the Rocky Mountains. The Colorado Springs Site is in a vibrant commercial retail area and is just minutes from a variety of restaurants, hotels, retail stores, and entertainment venues. (The first In and Out Burger in Colorado is located within walking distance of this site.)
The Colorado Springs Site is located in the World Prayer Center on the main campus of New Life Church, where it has a beautiful vista of Pike's Peak. It is within two hours of most major Colorado cities along the front range, including Denver, Aurora, Boulder and Pueblo. It is less than 30 minutes from the Colorado Springs Airport and less than two hours from Denver International Airport, which is the second largest airport in the U.S. It is also in driving distance of parts of New Mexico, Kansas, New Mexico, Wyoming, Utah, and Western Texas and Oklahoma.
---
Tulsa
Asbury Seminary's Tulsa, Oklahoma extension site is in a region of the country that's rich with Asbury Seminary alumni. This allows the Tulsa Site to deliver the Asbury Seminary experience in a highly relational way by involving the active participation of Asbury Seminary alumni who are working in churches and ministry centers throughout Tulsa, Oklahoma City, and the surrounding region. The Tulsa Site is located in the heart of the heartland of America, and it's easily accessible for students in parts of Oklahoma, Texas, Kansas, Arkansas, Missouri, and throughout the Central United States.
The Tulsa Site is housed in Venue 68, the ministry outreach center of Asbury United Methodist Church, not far from downtown Tulsa. It's located in one of the most vibrant commercial-retail centers in the state, which means the Tulsa Site is just minutes from dozens of hotels, restaurants, coffee shops, and other types of retail businesses.
---
Memphis
Asbury Seminary's extension site in Memphis, Tennessee is set in a thriving urban environment near a number of famous historical and cultural landmarks. Located in the heart of the South, the Memphis Site is within close driving distance for students located in parts of Tennessee, Arkansas, Mississippi, Alabama, Missouri, Louisiana, Southwestern Kentucky, and throughout the Southeastern United States.
The Memphis Site is set on the sprawling campus of Christ United Methodist Church, 4488 Poplar Ave., Memphis, near downtown Memphis—and just minutes away from some of the best barbecue restaurants in the city!