Obituaries
Glenn Randall Adkins, aged 66, passed away May 19, 2020 after a courageous battle with ALS, with loving support from his beloved family.
Born January 25, 1954, he was the son of Ella Mae Adkins and the late Virgil Glenn Adkins. In addition to his mother, he is survived by his wife of 46 years, Rhonda Dorsey Adkins, children Matthew Adkins (Jessica), Erin Adkins Collins, Sean Adkins, granddaughter, Amelia Pearl Adkins, granddogs Max, Bella Louise, Bayley May, Boomer and Molly. Special friends Mark Conner, Randy Maynard, Keith D. Ray and many special family members and friends.
In addition to his father, he was also preceded in death by a son-in-law Joshua Collins and in-laws Lowell and Jeanette Dorsey.
Randy was a graduate of C-K High School (1971), Marshall University (1975), and Asbury Theological Seminary (1979). He was ordained as a Deacon in the UMC in 1979 and an Elder in 1980.
Randy pastored United Methodist Churches in West Virginia for 38 years, including Lavalette UMC, Lavalette; Morris Memorial UMC, Charleston; Otterbein UMC, Huntington; Greenview UMC, Bluefield; First UMC, Princeton; and UM Temple, Beckley.
Rev. Roger A. Armistead, MDiv, aged 82, an 8 year resident of Concord, North Carolina as pastor of Friendship United Methodist Church, passed away on April 30, 2020. Roger was born March 14, 1938 in Dallas, Texas, to Hubert Lee Armistead and Oleta Johnson Armistead (parents), both of whom preceded him in death, along with his loving sister Barbara Armistead Enright. Roger is survived by his beloved wife of 59 years, Diane Williams Armistead, their children Mark and Anne Marie Armistead (daughter-in-law), daughter Lisa Armistead, grandson Joshua Armistead, brother Dr. William P. Armistead and wife Adrienne, and nieces and nephews Clark Enright, Craig Enright, Rhonda Enright Grounds, Lori Enright Murphy, and many other extended family membersRoger grew up in Dallas, Texas. He graduated from South Oak Cliff High School in 1956, where he was captain of the varsity basketball team. He went on to University of Texas at Arlington with the intent of becoming an engineer, but his Lord and Savior Jesus Christ called him to full-time ministry and Roger faithfully answered. After his first year of college he transferred to Asbury College to earn a Bachelor's degree, where he met his beautiful bride, Diane, and then entered Asbury Theological Seminary in Wilmore, Kentucky, and earned a Master of Divinity degree. He then began full-time pastoring with Diane and raised his children in the fear and admonition of the Lord. Throughout his life he pastored churches in several different states and locales in keeping with the itinerate Wesleyan tradition of the United Methodist Church. Roger was a man of Truth, was deeply interested in the things of God, believed in the inerrancy of scripture and its ultimate authority, was committed to following it, and he experienced and saw God manifest through the Holy Spirit in supernatural ways rare to the common believer. Roger was a trusting man who seemed to see only the good in most people. He was a giver of what he had almost to a fault, supporting ministries and human need all over the world, and he had an unwavering heart for Israel. A thinking person, he was always reading a new book and had a love of history. His friends in the pastorate would call him faithful, kind and brotherly, a protector of his flock, and one who was interested in developing the knowledge and the character of Christ in those who wanted to grow with him. Roger would not think of himself as a great man, but instead would acknowledge his own humanity, weakness and mistakes before his Great Lord and Savior Jesus Christ, in whose love, grace and mercy he was totally dependent upon. Roger already is, and will be, greatly missed by all who knew him, and we, his family, take comfort knowing without doubt that he is experiencing the fullness of the presence of God in heaven.
Amy Lin Caulder, M.A. in Counseling, aged 55, passed away Sunday morning, May 17, 2020, 55, surrounded by her children and husband in her home in Princeton, following a five-year battle with brain cancer. Through all her work and seasons, Amy was a dedicated and compassionate mother, wife, and friend. She home schooled all six of her children in the classical tradition, and in every community she lived, she taught Sunday school classes, led Bible Study, met regularly with prayer groups, and counseled, mentored, and supported many. She was down to earth, embracing the real truths of everyday life together, and unfailingly funny. As a teacher she was quick to listen and understand and patient to explain, always asking great questions and engaging all learners. She cared deeply for the emotional, spiritual, and physical well-being of everyone she knew, and was always ready to listen, process, and empathize, listening with the compassionate heart of God to everyone she spoke with. Amy was born Oct. 1, 1964, to David Finch and Patricia Murphy. She earned a B.A. in elementary education (Asbury University) in 1986 and an M.A. in counseling (Asbury Theological Seminary) in 1990. She married Shelley Caulder, Jr., in 1987. The Caulders moved to St. Joseph, Michigan, in 1991. In 1996, they moved to Shelbyville, and in 2001, they served as missionaries in Kenya, where Amy taught Bible and Counseling classes at Kenya Highlands Bible College. In 2005, they returned to the US and the greater Louisville area before moving to Madisonville, in 2008. In 2016, Amy began serving in pastoral appointments with the Kentucky United Methodist Conference. In 2019, Shelley was appointed to Ogden Memorial United Methodist Church in Princeton, where he and Amy spent the last months of their marriage as they spent their first: connected to each other and connected in Christ. She is survived by her father, the Rev. David Finch; her mother, Patricia Murphy; her husband of 32 years, the Rev. Shelley Caulder, Jr.; her children Erin, Allie (Steve), Ben (Hannah), Zoe, Anne, and Mattie; and her three grandchildren. Amy is preceded in death by her brother, the Rev. Dr Jeffrey Finch. 
Paul Dayhoff, aged 95, passed away on April 26,2020. Paul grew up in the Transvaal. He attended the University of Witwatersrand in Johannesburg and the Johannesburg College of Education where he majored in History and Sotho, graduating with his BA degree and Teaching Certificate. In September 1945 he was drafted into the United States Army at Accra, Gold Coast Africa (Ghana). He spent 20 months in the Army at the end of WW2. In 1948 he enrolled in Asbury Seminary, Wilmore, Kentucky, where he studied for an MDiv degree. While there he met Kathleen Taylor, and in September 1950 they were married.
Soon afterward Paul was ordained into ministry by the International Holiness Mission (IHM). Kathleen died in February 1952. Later that year Paul met Margaret Stark. After completing his degree at Asbury, Paul returned to South Africa alone as a missionary just in time to participate in a service of merger of IHM with the Church of the Nazarene. He corresponded with Margaret back in the States while she completed her education. Paul asked her in a letter to marry him. She replied, "Yes." After her college graduation she boarded a ship and sailed for South Africa, arriving in August 1954. They were married September 11, 1954 and were married for over 60 years. She preceded him in death on February 17, 2015.
Paul loved God and spent his life following God's call and direction. His life was spent teaching high school, Bible College, and degree education. He spent several years planting church congregations, building churches and parsonages, and of course, preaching and teaching every chance he got. He earned his Th.D. degree from The University of South Africa in 1980. Most of his missionary work was spent in South Africa and Swaziland. He was a wonderful husband and father and he loved his family. He was an avid reader, and he loved to fish and play games with his family. He was a lifelong learner and loved to teach. He loved Africa and the African people. He learned several languages and after he retired, he wrote a history of the African church people relating how God had changed their lives and used them to continue to spread God's word in Africa.
He entered the eternal joys of Heaven on April 26, 2020 in Oskaloosa, Iowa. Paul and Margaret had 4 children: Paula (& Rev. H. Mark) Else, of Omaha, NE; Patricia Barnes, of Los Angeles, CA; Elizabeth (& Dayrel) Gates of Pella, IA; and James (Christy Overstreet) Dayhoff of San Diego, CA. Grandchildren include: Sherri (& Blaze) Criqui;Rachael Barnes; Anthony (& Jeanna) Else; Rebecca (& Lee) Williams; Emily (& Patrick) Heflin; Madalyn Gates; Julian Dayhoff, and Nicholas Dayhoff. Great-grandchildren include Abigail, Alexander, Jackson and James Else; Parker (& Jessica) Criqui and Hailey Criqui; Erin and Kaitlyn Williams; and Milo Heflin. A great-great-grandchild: Aiden Criqui. He also leaves his sister in law Elizabeth (& Dr.John) Taylor of Dayton, OH. Paul was preceded in death by his parents, Kathleen Taylor Dayhoff, Margaret Stark Dayhoff,and son-in-law Ron Barnes. 
Royal Wesley Edwards, MDiv, aged 91.  Reverend Royal Wesley Edwards was born in Los Angeles and passed away on March 13, 2020, at the age of 91. Royal was the oldest of three children born to Wesley and Hazel Edwards. He grew up mainly in Southern California and attended grammar schools in the Los Angeles area, graduating high school from LAPC, a college prep high school. He then studied Mechanical Engineering at colleges in Riverside and Pasadena. Royal was very involved in his FM Church Youth Group where he met his future wife Vivien. They were married in 1950 in the Hermon neighborhood of L.A.
Royal was a veteran of the U.S. Army serving in the Korean War from 1950-1952. It was during this time that Royal decided to dedicate his life to ministry. After his military service, Royal and Vivien moved to Washington State where Royal attended Seattle Pacific University and earned his B.A. in Biblical Literature. He then attended Asbury Theological Seminary in Lexington, Ken., and graduated with his B.D. His Christian faith was a core component of his life and he pastored numerous churches throughout Southern California and Arizona over the next 33 years before retiring to Mountain Ranch where Royal built their home, but ultimately settled in Copperopolis.
Royal enjoyed traveling during the evangelistic portion of his career and held services at many churches throughout the U.S. and Canada. Over the years, he and Vivien visited many countries including Europe, Israel and China, and performed charitable work in Mexico. Education was important to Royal and for a time he taught Greek at Azusa Pacific College in Glendora, Calif. and later at Edwards Air Force Base.
Royal loved to sing and liked to listen to his CDs. You couldn't spend much time with Royal before the subject of exercise and health were part of the conversation. He was an avid runner for many years, and researched natural approaches to health. He was fond of shopping at farmer's markets, vegetable gardening, trains, a good game of chess, and was always up for working a puzzle.
Royal is preceded in death by his wife, Vivien Brandt Edwards; father, Wesley G. Edwards and mother, Hazel G. Edwards. He is survived by his four daughters, Karen Moffet (Ken), Marlene George, Laurel Williams, Christine Stolt (Steve); his 10 grandchildren; five great-grandchildren; as well as his brother, Archie Edwards (Pat); sister, Shirley Peterson; and many nieces and nephews.
Rev. Dr. Wiley E. Hearn, MDiv '75 & DMin '87, aged  76. The Rev. Dr. Wylie E. "Buff" Hearn was born on February 4, 1944 in San Angelo, Texas, to Wylie Ernest Hearn Jr. and Clydean Everitt. He graduated from Ballinger High School in 1962. Post-graduation he entered Texas A&M University where he studied Animal Science. He loved the Fightin' Texas Aggies and was a proud member of the 12th Man. After graduating from the Corps of Cadets he was commissioned as Lieutenant in the United States Army and served as a tank commander in the US Army Reserves. Throughout his life Dr. Hearn loved telling Aggie jokes. Following his military service, he returned to his hometown to work with his father at Ballinger Wool & Mohair. During this time, he received the call to serve the Lord Jesus Christ as a pastor. In 1972, he entered Asbury Theological Seminary in Wilmore, Kentucky where he received his Master of Divinity in 1975. Upon graduation he was appointed to San Jacinto United Methodist Church in Amarillo, Texas. He furthered his theological studies and earned a Doctor of Ministry in 1987 from Asbury Theological Seminary. Successive appointments over the next three and a half decades included First United Methodist Church Follett; St. Matthews United Methodist Church Lubbock; First United Methodist Church Memphis; First United Methodist Church Snyder; St. Paul United Methodist Church Amarillo; Grace United Methodist Church Alamogordo, New Mexico; and Kingswood United Methodist Church Amarillo. He pastored hundreds of people and found great joy in sharing the light of Christ with them. Throughout his active ministry in the Northwest Texas and New Mexico Annual Conferences of the United Methodist Church, Dr. Hearn was not only seen as a beloved pastor, but as a conference leader and a frontrunner in local and global missions. He gave great energy and compassion to taking the resources of the church to those in need. His ministry also involved considerable work in several Emmaus Walk Communities and in children's church camps. After retiring from fulltime pastoral ministry, Dr. Hearn continued his missional outreach through ministry to a bowling league and in advocating for children in court systems. In addition, he taught advanced discipleship and spiritual formation through a Lilly Grant program at Asbury Theological Seminary. Dr. Hearn also loved working with his hands. Gardening, pottery, and carpentry were some of his greatest passions outside of his Church work. He was a master potter and was known throughout the United States for his custom chalice and paten sets. He was also an avid outdoorsman spending several summers in Durango, Colorado and in the mountain ranges of Kentucky trout fishing, camping, and hiking. He was greatly loved and will be dearly missed by his friends and family.Survivors include his daughter Audra Day and husband, Miles of Lubbock; stepchildren Amanda Harmon and husband, Scott of Idalou; Melanie Hohman and husband Darrell of Claude, and Bay John Long of Slaton; grandchildren, Hannah and Micah Day; and Guy Harmon; sister Peni Gardner of Granbury, brother Russ Hearn and wife Wendy of Fredericksburg. He was preceded in death by his parents, Wylie and Clydean Hearn; wife, Sandra Hearn; and grandson, Jett Harmon.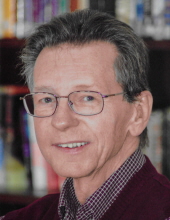 Ross Thomas Hindman, MDiv '83, aged 79,  passed from his earthly rest in Jesus to his heavenly rest with Jesus on April 30, 2020, . What he could only see through the eyes of faith in this life, he now sees face to face.
Throughout his life Ross enjoyed music and the arts. He was a talented artist and a skilled musician playing both trumpet and guitar, and a little piano. His love of the outdoors started in childhood, continued through camping trips with his wife Ellen, and was passed on to his children through camping, hiking, fishing, canoeing, etc.. He greatly enjoyed working with his hands; DIY projects, gardening, and especially woodworking. One of his greatest joys was spending time with his twelve grandchildren engaging in a variety of activities with them.
Ross was born in McKeesport, Pennsylvania on October 27, 1941, and grew up in Clairton, PA where he graduated from Clairton High School in 1959. Ross attended West Virginia Wesleyan College in Buckhannon, WV, for one year. In September, 1960, Ross began working as a bookkeeper in the corporate municipal bond department of Mellon Bank in downtown Pittsburgh, where he was promoted each year until he resigned in May, 1965.
In 1963, Ross joined the Pennsylvania National Guard. In 1965, Ross decided to move to Atlanta, GA to begin a new life. During that time he was reassigned to the Army Reserve 11th Special Forces Unit, Co.E, Det.B-3 in Columbus, GA and served in that unit as a Light Weapons Leader until his honorable discharge in June, 1970.
While residing in Atlanta, Ross first sold calculators for Smith Corona Marchant Corporation, after which he became a manufacturer's representative for companies selling architectural products, construction materials, hospital, and scientific equipment in a six state region. Ross then co-founded and ran a unique flower business for several years followed by opening and running a restaurant, The Carriage Room, in a historic mansion just off Peachtree Street in Atlanta.
The last half of the 1960s was a turbulent time in American history. Ross got swept up into it all, particularly the hippie, drug movement, and his life changed drastically. Ross felt the only positive thing during that time was meeting Ellen, who would later become his wife. They had many adventures together.
A transforming event occurred in Ross's life on August 12, 1975 which would set the course for the remainder of his earthly journey. He was, to use the phrase that Jesus used (John3:3), born again, and that made all the difference. His was a life transformed by the power of God's spirit. He and Ellen married three weeks later and never looked back.
The newlyweds lived two years in Vermont where they were blessed with a daughter, then moved to Wilmore, Kentucky for Ross to pursue further schooling as he sensed that God was calling him into fulltime Christian ministry. Ross received a BA with honors from Asbury College (now University) in 1980, and a Master of Divinity from Asbury Theological Seminary in 1983. During this time, Ross received a more specific leading from God, he felt called to ministry in France.
Ross and his family left the U.S. for France in August, 1984 serving under Cornerstone International. After ten months of language school, they moved to Marseille, France, a port city on the Mediterranean Sea. Ross spent the next seven years planting/establishing three churches in Marseille in conjunction with local French Christians who asked for his help to do so. During those years two sons were welcomed into the family.
Following a sabbatical time in the United States, Ross accepted a request by Bethany International to direct a Bible training center in the heart of France. He and his family moved there in February 1994. To better cater to the needs of the French Christian community, Ross created an innovative program for students who were called into ministry that combined distance learning via recorded classes with on site in person classes. The school and program were successful and grew. Hearing of the program, a Brazilian missionary working in Africa asked Ross to work with him to start schools in two French speaking African nations.
In 2006, Ross passed the directorship of the school to a French minister and moved with family to Omaha, Nebraska to be near their eldest daughter, her husband, and their children. Through all his years of ministry and from great quantities of time spent studying the Bible, Ross became a very gifted teacher of God's word and was his wife's all-time favorite Bible teacher. Retirement was not a word in Ross's vocabulary and he continued to teach and preach both locally and overseas (Europe, Africa, Asia) as part of the international faculty of GlobeServe, a multination mission group. Ross continued teaching until just a few months ago when he was no longer physically able to do so.
In 2003, Ross survived stage four cancer. When he received a second diagnosis of stage four cancer less than two months ago, which left him with no options for a known medical cure, he thanked God for the seventeen extra years he had been given to serve Him and be with his family. His family thanks God for the gift of time they were given to surround him with great love and care till God called him home.
Ross is preceded in death by his father, Elmer Joseph Hindman, and his mother, Dorothy Louise (Cogan) Hindman. He is survived and will be lovingly remembered and greatly missed by his wife of forty-five years Ellen, daughter Rachel (Josh), sons Joel (Mara) and Nathanael (Bailey), and from a previous marriage, sons Ross and Randy (Sharon). Also surviving Ross are siblings Remle (Earl) and Rick, and grandchildren Lucie, Jack, Joey, JJ, Lillie, Jacob, Jonathan, Collins, Rosie, Marcella, Hope, Cogan, his maternal aunt Naomi, many other kin and a host of international friends.

Rev. James D. Neel,  MDiv, aged 39, passed away at his home in Greeneville, Tennessee on Friday, April 24, 2020. David was a devoted husband, father, son, brother and pastor. He lived life fully and he immensely enjoyed fishing, turkey hunting and NASCAR. He and his children had an incredible and joyful bond. David was full of energy and made friends wherever he went, never meeting a stranger. His dedication and commitment to God was unfailing to the very end. David had a very successful career as a Methodist Pastor at various churches including those in Marion, Virginia; Kingsport, Parrottsville, Nitoa, and Greeneville, Tennessee; and in Kentucky. He obtained a Master's degree in Divinity from Asbury Seminary in Wilmore, Kentucky, and his Bachelor's degree in Christian Studies and Psychology from Bluefield College in Bluefield, Virginia. David was described by everyone that knew him as generous, loving, compassionate, and kind. His friends were too many to list, but were far and wide and are certain to miss him in the community, at work, and everyday life. David is survived by his loving wife Ashley; his children, Isaac, Lucas, Maddux and Lilli, all of the home; his father and step-mother, Vernon and Doris Neel of Bland, Virginia; sister and brother-in-law, Lori and Mark Newberry of Pittsboro, NC; a nephew, Benjamin Nunn of Appomattox, Virginia; an aunt and uncle, Linda and Gary Donaldson of Wytheville, Virginia; and a cousin, Todd Taylor of Bluefield West Virginia. He was preceded in death by his mother, Paulette Pauley Neel; a cousin, Eric Taylor; and his grandfather, Paul L. Pauley.
Chad Downing Kingsbury, MDiv, aged 48, was no ordinary person, so this will be no ordinary obituary. This teddy bear of a man was born Feb. 15, 1972, and fulfilled his earthly assignment on May 4, 2020. He died peacefully at his home, after a brief hospital stay, and a long battle with diabetes. Up until his last moments of life, he was still taking care of others by leaving notes and numbers behind to help his family in the event of his death. He wanted to make sure his wife, Jennifer Kingsbury, whom he loved with all of his big heart, would be okay. Chad would say the same of his four children, Maggie, Max, Sam, and Parker. Chad made sure everyone knew how much he loved Jennifer. When telling a friend that he was going to marry her after only knowing her 31 days, the friend asked him how did he know she is the one? He simply answered, "Because I can't live without her." They married on June 26, 2016. They enjoyed four wonderful years together, being each other's best friend, confidant, and loving each other well. Jennifer says, "If I could do it all over again, I would do it all over again." Chad was preceded in death by his mom, Sandra Kingsbury. He leaves his father, Jere Kingsbury; and his stepmother, Thelma. When you spend a lifetime investing in people, they show up for you when you need them most. A myriad of Chad's friends went into immediate action praying for his family at the moment they learned of his death a gift from Chad to his family? You bet. He knew you all would do just that. He counted on every one of you. He had no doubt you would be there for his wife and family in their grief. He even wrote such in his note, "They will be there for you." Besides his wife, whom he loved so much and his children, he wanted you to know that he dearly loved his hound dog, Brutus Larutus Kingsbury. So Chad. Chad's signature was not in handwriting, but in his smile. His smile entered the room and the rest of him followed. If you knew Chad most likely, right now you can hear his husky laugh. He would smile, laugh, and push his glasses up on his nose. Always. Without fail. Chad had many gifts and talents. Some would say his gift of encouragement was his most obvious. Others would say it's his serving heart. And yet others say, hands down, his teaching gift of God's Word was rare and unique and led many youth and adults to Christ and to serve the God he loved so much. Chad was born and raised in Memphis, TN. After graduating from Christian Brothers High School, he received a BA from Lambuth University and his Master of Divinity from Asbury Theological Seminary in Wilmore, KY. Not one to really be called a pastor or minister, he would more often say… "To quote Mary, I am a servant of the Most High God" and that he was. He served with all his heart, Chad style. He just had a way of reaching, teaching, and inspiring others to be everything God intended them to be. Ask any youth or former youth who spent their summers at Lakeshore. Ask any youth who sat under his guidance at Northside Church, Jackson, TN, or Columbus FUMC, MS. They all say the same thing, "He changed my life for the better," "He helped me find my way during a very difficult time," "He was more fun than a barrel of monkeys," "His hugs were the best ever." Chad hugs/bear hugs . same same. Chad's life was not easy. Not ever. But he was never a quitter. He served God's people wherever his calling took him. His family says "Thank you" to the many congregations that he had the privilege to serve and who loved on him through the years and for the "friends who stuck closer than a brother." You know who you are. To one special friend, Will Dougan, Chad would say, "You were always there for me bro." For the last several years, they were business partners and ran Golden Triangle Defensive Tactics. They taught gun safety classes together as well. Chad's obituary wouldn't be complete without a few 'shout-outs' as he liked to say, but this time from his heartbroken friends to him "He was a gentle giant and one of the kindest people ever," "He was equal parts compassion and joy with a little backwoods mixed in to keep you on your toes," "One of the best communicators of the gospel I knew," "He simply loved people and accepted them as they are," "He had a way of pulling people in, dropping the hammer, and hitting you in the face with the message," "He once convinced me and my brother he was the only licensed ninja in Memphis. We believed him. Only Chad." So, we close this obituary with one of Chad's long time sayings. "Blessed to be yoked with you friend." Fly high, Chad Kingsbury. We will see you again on the other side. Well done, thy good and faithful servant.
---
---
Seedbed.com
---