Alumni Link
Obituaries
Published Date: October 31, 2022
Jerry L. Baker, aged 68, was born to Kelsie Baker Sr. and Dorothy Gallington Baker on July 12, 1954 in Silverton, TX. He spent his childhood in Silverton, then later attended job core in St. Marcos, TX. He was a traveler to many areas of Texas all while remaining a resident throughout his earthly years of Silverton.
Jerry was a very happy, talkative likeable person whom melted the hearts of many people in Silverton and around the world.
Jerry was the best citizen news and weather forecaster. He was interviewed on Silverton's forecasting news station. He won citizen of the year for the Chamber of Commerce of Silverton, TX; numerous accolade letters from several Governors of Texas and also from the White House. Jerry was included in the book, "Surviving and Thriving in a Bipolar World," by Cora Gail Trent Johnson in 2017. Kenneth Wyatt, an artist, made a bronzed bust of Jerry honoring Harry Hosier at Asbury Seminary in Wilmore, KY. Kenneth Wyatt was impressed by Jerry because he looked like the famous, black Methodist preacher in Louisville, KY.
Jerry loved providing tours of Silverton's Historical jail house to visitors. This allowed him to enjoy meeting with the many travelers through the City while having a meal and taking many pictures while touring.
Jerry was the youngest of nine siblings. He was preceded in death by his parents; brothers Bill, Charlie, and Eddie Baker; and sister Janice Baker.
Jerry also leaves loved ones to cherish his memory: brother Kelsie Baker Jr. and his family; sisters Erma Mitchell and Deloris Ann Baker and their families, all of Amarillo, TX; along with a host of nieces, nephews, cousins, and friends.
In closing, we would like to thank the family and friends who helped to take care of Jerry throughout his life. Jerry will be missed by all.
Roy Eugene Carpenter, III, M.Div. '86, aged 77, beloved husband, father, grandfather, brother, brother-in-law, uncle, friend, teacher and preacher, of Jasper, Indiana, completed his journey through this life on Monday, October 10, 2022, at the age of 77 years, 2 months and 27 days.
He was born July 13, 1945, in Urbana, Illinois. He was the second child of Roy Eugene, Jr. and Julia Katherine Carpenter in a family of four children.
He was appreciated by all as a man of faith, being kind and gentle. He graduated from Clayton High School in 1963 and entered Purdue University, working towards an engineering degree. In January of 1966, he transferred to Indiana State University, working towards a Bachelor's Degree and teacher's license in Mathematics and Physical Education.
On August 27, 1966, he married Marcia Harrison, and together they graduated from ISU in May of 1967. He began his teaching career in the fall of 1967 at Granville Wells High School, now called Western Boone. During that year, their first child was born, a daughter they named Valerie Lynn.
In 1970, Roy was granted a Teaching Assistantship at Indiana State University and was awarded a Master's Degree in Mathematics and Physical Education in May of 1971. He took a teaching position at Washington Twp. School in Valparaiso, Indiana. During that year, his second child, a son named Roy Eugene IV (called Chip) was born.
In 1975, Roy and Marcia purchased a farm in Owen County, and he taught at Owen Valley High School in the Mathematics Department and coached.
Roy's devotion to teaching and children was a driving force in his life.  He was an enthusiastic and organized teacher and coach. Several of his former students kept in touch with him over the years and, to this day, tell of his influence upon them and how much they loved and admired him.
In January of 1981, Roy felt the call of God to enter the ministry and, in June of that year, was appointed to the Beech United Methodist Church just outside Coal City, Indiana. He and Marcia matriculated at Asbury Theological Seminary in Wilmore, Kentucky, graduating in 1986. He then accepted a teaching and coaching position at McCurdy Mission School in Espanola, New Mexico.
The Carpenter family moved back to Indiana the next year, and Roy accepted an appointment to Harrodsburg, Indiana, United Methodist Church.
Roy's faith, love, courage and optimism inspired his children, his students and his grandchildren. He pastored in the Terre Haute area for 12 years, where he was instrumental in merging four small United Methodist Churches and constructing a new worship center. He came to the Holland/Zoar United Methodist Churches in 2005.
In 2010, Roy retired from full-time ministry and was appointed to the Ames Chapel UMC in Paoli, Indiana. He was subsequently appointed to the Bloomfield Wesley UMC and then the Alfordsville UMC.
In his early days of retirement, he substitute taught at Southridge and Jasper. Later on, he helped Hispanic students and tutored math students at Jasper High School.
Roy enjoyed his family, gardening, fishing, reading, singing, working puzzles, especially Sudoku, Bible study and church life.  His favorite book of the Bible was the Epistle of James. His favorite hymn was "It is Well with My Soul." His favorite foods were fried chicken with mashed potatoes with white cream gravy. And the typical Thanksgiving meal, especially the cranberry salad.
He was a member of the Indiana Conference of the United Methodist Church and the Holland Kiwanis.
Loved ones who traveled on before Roy include his parents, his brothers-in-law, Ernie Noe and David Newlin; and a nephew, Joseph Sommerville.
He is survived by his wife of 56 years and the love of his life, Marcia Carpenter of Jasper; his children, Valerie (Larry) Stice of Springfield, Virginia and Chip (Paula) Carpenter of Santa Claus; his grandchildren, Matthew, Amanda, Amelia, and Jeremy Stice and Harrison and Emma Carpenter; two sisters, Bonnie Noe and Barbara Newlin; one brother, Jim (Elizabeth) Carpenter; and by nieces and nephews.
Rev. Katurah York Cooper, D.Min '12, aged 67, one of Liberia's prominent religious leaders, founder and Senior Pastor of the AME Empowerment Temple, has died. She was attending a scheduled medical appointment at the Johns Hopkins Hospital in Baltimore, Maryland (USA), when she answered her eternal summons.
Rev. Cooper's death comes as a shock to many who remember her for her selfless character, visionary leadership, entrepreneurial spirit and zeal for sharing the gospel of Jesus Christ.
In 2001 she founded the Empowerment Temple, an African Methodist Episcopal (AME) church in Liberia, where she served as pastor up to the time of her death.
Rev. Cooper also served in academia, first as Former Dean of John Bryant Theological Seminary, AME University, Liberia (2003-2013) and later as former Vice President for Academic Affairs, AME University (2014-2016).
Among other things she thrived as a botanics entrepreneur (flowers) and authored a book on leadership, titled You Can Lead.
She is survived by her husband, James S. P. Cooper, who took her hand in marriage on January 1, 1977. That union was blessed with several children.
The Rev. Mark Andrew Galo, M.A.T.S. '97, aged 51, went to his eternal home on October 9th. Mark was born in Ohio on October 17, 1970, to the late Paul F. and Carol A. (Hinkel) Galo. He graduated from New London High School in 1989. At 16, Mark answered the Lord's calling on his life. He determined then that his future career would involve student ministry, specifically teaching students to become disciples who would make disciples.
After high school, Mark briefly attended Bowling Green State University before transferring to Toccoa Falls College in Georgia, where in 1995 he received a Bachelor of Science in youth ministry with a minor in church music. He went on to receive a Master of Arts in Theological Studies from Asbury Theological Seminary in 1997.
He married his college sweetheart, Ashley, in 1996 and they served the Lord together for over 26 years. During the early years, they served in Poughkeepsie, New York, where Mark was associate pastor of The Christian and Missionary Alliance Church of Poughkeepsie, then later minister to Students/Education at Hawhammock Baptist Church in Swainsboro.
More recently, Mark has been the minister of students at Statesboro First Baptist Church. Mark encouraged his students to give back and accompanied them on mission trips that included Santo Domingo, Iron Man Lake Placid, Iron Man Panama City, New York City, Vancouver, British Columbia; Henton, West Virginia; and Atlanta with Alpharetta City Church.
As Mark's passion has always been students and their families, he and Ashley began attending Winshape Marriage Retreats 10 years ago and began sharing their experiences with other couples to help strengthen their marriages. They introduced over 20 couples to Winshape Marriage Retreats.
He also served as dean of Blue 2 IMPACT camp, Youth Ministry Network, Youth Leadership at CONCLAVE, GBC, leadership in Fields of Faith and Fellowship of Christian Athletes. And still, he found time to teach a Bible Studies Class at Bulloch Academy.
Those who knew him best knew him as upright, faithful and authentic. He was also the man who cheered Ohio State but worked with the Georgia Southern "Chain Crew" officiating games and as a "Red Hat" official. And all remember him for never turning down a scoop of ice cream!
Mark's greatest love was the Lord, but his life was forever changed when he became a dad. His family was everything to him, but his servant's heart extended beyond his family, always humble and unwilling to receive recognition here on earth but knowing he would one day receive his reward. Mark will forever be loved and missed by all that loved him but especially by Ashley, and his children, Adeline Egan (16) and Spencer Ross (15).
Mark is preceded in death by his parents, Paul and Carol Galo; and his father-in-law, David L. Spencer. Survivors, along with Ashley, Adeline and Spencer, are his two sisters, Melissa Peters of Virginia and Rebecca (David) Cribbs of Indiana; two brothers, James (Kim) Galo of Tennessee and Timothy (Patty) Galo of Michigan; his mother-in-law, Beth Spencer Hudson (Drone) of Swainsboro' brother-in-law, Vincent Spencer (Laura) of Braselton, Georgia; and several nieces and nephews.
The Reverend James Martin Harrison, M.A.T.S. '70, aged 79, of Meridian Mississippi passed away at the Bella Vita Assisted Living in Phoenix, Arizona on October 6th, 2022.
Reverend Harrison, "Jimmy", was born in Meridian, MS.  He graduated from Meridian High School then attended Mississippi State University, eventually earning a Masters of Theology from Asbury Seminary in Wilmore, KY.
He married his high school sweetheart, Ginger, in 1963 and they served the United Methodist church faithfully together for 54 years until Ginger's passing in 2018.
Reverend Harrison was a caring, compassionate, faithful servant of God.  He was a Husband, a Father, a brother. He meant so much to so many people. He was a faithful supporter of the Mississippi State Bulldogs.  Through good and bad times, his support never wavered.
Survivors include his children, Andrew Harrison and Joseph "Joe" Harrison (Scott); granddaughter, Natalie Harrison; sister, Janis Pinion (Charles); and numerous other family members and friends. Rev. Harrison was preceded in death by his wife, Mary Virginia Harrison, his parents, and his brother.
Jerry Bradford Hatchett, M.Div. '03, aged 61, was a pastor at his very core, a man who sought after God with his whole heart, and who gave his life to the advancement of the Gospel on this earth.
When thinking of Jerry's call to ministry, the story that comes to mind is that of the first followers of Christ who were busy catching fish when Jesus changed the plan. In particular, Matthew 4: 19-20 stands out: "'Come, follow me,' Jesus said, 'and I will send you out to fish for people.' At once they left their nets and followed him."
He was an extremely intelligent man with a number of abilities and talents that led to a variety of occupations or vocational journeys he could've embarked on. However, when he heard the call of Jesus to minister to His church, he followed. It wasn't a matter of debate for him because above all he trusted and surrendered to God's call on his life. Even when others didn't recommend uprooting a family or all of the many objections that can occur during such an abrupt change of course, he was faithful. Jerry and his wife, Elizabeth, packed their family up and moved to Wilmore, Kentucky, to embark on the first steps of pastoral ministry at Asbury Theological Seminary.
He soaked up his time at Asbury and was constantly talking of the many new things he was learning and on the amazing professors and fellow classmates he was meeting. He grew, developed, and was emboldened during that formative season to both better lead as a husband and father but also as a pastor. He was placed at Millersburg First United Methodist Church during that season and his family became so much stronger and closer.
Jerry graduated with his Master of Divinity and the emotion of gratitude and accomplishment can still be called to mind as his extended family gathered in Wilmore that day to celebrate his completion at a seminary so dear to his heart. And as his family anxiously waited to see what Annual Conference would bring in terms of moving, we were excited for what God had in store.
Providence Rural United Methodist Church in Hanson was the location, and just like that the Hatchetts were moving to the western part of the state for Jerry's next step of ministry. He served faithfully and he served with integrity, despite the many challenges and adversities that arose. His family and those who knew him well have no doubt in their minds that he heard those glorious words upon his arrival into paradise: "Well done, thou good and faithful servant."
Rev. Jack T. King, M.Div. '51, aged 95, passed away on Tuesday, Oct. 4, 2022, at Towne House Retirement Community in Fort Wayne. A native of Louisiana, he earned two master's degrees from both Asbury Theological Seminary and Butler University. A member of the Indiana Conference of the United Methodist Church, he served churches in central Indiana. In 1978, he joined the staff of Carmel United Methodist Church and following his retirement from there became its pastor emeritus. The church's family life center is named in his honor. Surviving are his daughter, Dr. Jeanine (C. Gregory) Childs of Fort Wayne; sister, Carol Jean Vorhees of Fredonia, KS; seven grandchildren, C. Andrew (Becca) Childs of Avon, J. Perry Childs of Fort Wayne, Joel (Brittany) Childs of Huntington, IN, Eileen King of Minneapolis, MN, Annie King of Davis, CA, Sarah (Fulvio Brembilla) King of Sarasota, FL, and Emily King of Forest Park, IL; four nieces, and two nephews. He was preceded in death by his wife, Doris (Stubblefield) King, in 2011; and son, Dr. Ted King, in 2014.
The Rev. Dr. Donald LaFaber, M.Div. '81, aged 76, of Martinsburg, West Virginia, passed away peacefully on Oct. 18, 2022, in Meritus Medical Center, Hagerstown, Maryland.
He was born March 13, 1946 in Bellaire, a son of the late Myles and Virginia Perkins LaFaber.
Don grew up in Beallsville on the family farm. He received a Bachelors of Science Degree and a Masters of Divinity; he then received a Masters in Counseling and a Doctorate of Science in Holistic Ministries. Don went on to Pastor at Trinity United Methodist Church in New Springfield and Faith United Methodist Church in Akron. He enlisted in the United States military and served 34 years combined active and reserve service in both the Air Force and the Army. He retired in 1997 as a Chaplain Major and worked for the VA Medical Center in Martinsburg as a Chaplain/Substance Abuse Counselor.
Surviving are his loving wife, Deanna Miller LaFaber; a son, Joshua (Jennifer) LaFaber; four grandsons, Christian (Charity) Witt, Gabriel and Anthony LaFaber, and Pfc. Eric LaFaber; brothers, Denzil (Jane) LaFaber, Wayne La-Faber (David Fawcett) and George (Linda) LaFaber; sister, Juanita (Jim) Hamilton; sister-inlaw, Jan (Clarke) Haren, and brother-in-law, Jerry Everhart; also many nieces, nephews, and cousins.
In addition to his parents, Don was preceded in death by his daughter, Valerie, and sister-in-law, Beverly Everhart.
The light of Don's life besides his son and daughter, were his four grandsons. He was a great influence in shaping their lives.
Don loved his time spent with his patients at the VA Hospital. Most recently Don and his wife, Dee, served as the Pastor of Visitation at Bedington United Methodist Church.
Rev. Dr. William T. McConnell, III, M.Div. '71, aged 76, has been called son, brother, husband, father, grandfather, pastor, counselor, mentor, coach, scout leader, firefighter, EMT, writer, author and speaker, but the best description of Bill was disciple of Christ. He wanted everyone to know about God and His love. On October 8, 2022, at his home in Okeana, at the age of 76, Bill was called home.
William T. McConnell III, was born September 20, 1946, in Louisville, KY to William T. McConnell Jr and June Redding McConnell. He grew up in Louisville and Worthington, KY, graduated Eastern High School, and went to Eastern Kentucky University for his Bachelor of Political Science Degree. Bill felt the call to become a minister and then went to attend Asbury Theological Seminary and later Kingsway Theological Seminary. He ministered in Kentucky, Iowa, Illinois, Ohio, Tennessee and lastly in Norwood at Norwood Christian Church. Bill's mission in life was to share the love of God and to teach others to spread the word. He was also a Firefighter/EMT, Police, Fire Department and Prison Chaplain, Spiritual director for the Emmaus Community, and was active in the Scouts from 1970-2000. In recognition of Bill's distinguished service with the Boy Scouts of America, he received their highest recognition, the Silver Beaver Award. Bill was also an author writing Born in a Barn; You Can't Scare Me, I have Kids; Renew Your Congregation, Overhauling Life; Developing a Significant Church; and the last book that is in progress is "It was Important to me".
In his personal life he was a wonderful dad to Mack, Meg, David & Robin and after marrying Nancy Cothern Kuetemeyer on July 23, 1988, he extended his father duties to his bonus children: Klint, Josh, & Jackie. Bill was a teacher and a leader and was always there for his children to give a hug or advice when they needed it most…even if sometimes his advice was not what they wanted to hear. His children were proud that he was their father. His remarkable storytelling and the clarity of the Word of God were amazing gifts. And Bill's sense of humor and witt were unmatched.
Bill's legacy will live on with his beloved wife Nancy E. (Cothern) McConnell; children: William "Mack" IV (Candace Sharp) McConnell, Margaret "Meg" McConnell, David McConnell, Robin McConnell, Klint Kuetemeyer, Josh (Elizabeth) Kuetemeyer and Jackie (Brad) Sulfridge; Papa to: Hannah, Bryndan, Lily, & Quinn McConnell, Nicholas Evans, Brooke (Brett) Mueller, Kaitlyn (Blake) Doyle, Olivia, Anna, Gabby, & Max Kuetemeyer, Hope, Will & Vivian Sulfridge; cherished great grandchildren: Karsyn Evans, Bentley & Amelia Doyle; dear brother of Linda O'Dell, Elizabeth "Liz" Sherfy Browning & Dr. William "Willie" Holmes McConnell. Also survived by his brothers-in-laws: Daniel (Carolyn) & Larry Cothern; Sister-in-law: Patricia "Trish" (Duane) Gregory and numerous nieces, nephews, extended family and brothers & sisters in Christ.
Preceded in death by his parents; siblings: Kae Crenshaw, Robert "Bob" McConnell; brothers-in-law: John Browning, Vernon O'Dell; and sister-in-law: Vickie McConnell.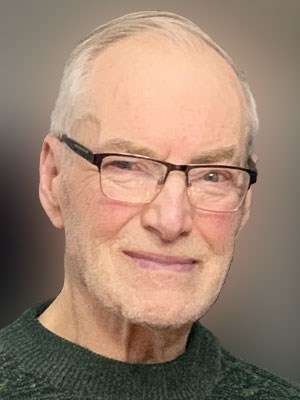 Ralph Rau, M.Div. '71, aged 79, passed away peacefully early on the morning of Friday July 29 at Foothills Hospital to be with his Heavenly Father. He is survived by his loving wife of almost 58 years Shirley (neé Engel), children Delinda (Marlowe) Ulriksen & Tim (Stacy) Rau, grandchildren Nichole (Tad) Davidson, Amanda (Steve) Mason, Michael (Danielle) Ulriksen, Hallee Rau & Ethan Rau, great grandchildren Riggins Ulriksen, Oakley Ulriksen & Samara Davidson and sibling brother Glen (Linda) Rau. Ralph was predeceased by his father Jacob, mother Hilda, older brother Larry (Grace) and sister Sharon.
Born on February 20, 1943, in Trochu, Alberta, Ralph was the second of four children, raised on the family farm outside of Beiseker. After graduating from Hillcrest Christian College, Ralph married Shirley Engel on August 1, 1964, then moved to Wilmore, Kentucky, where Ralph completed a Bachelor of Theology & Master of Divinity at Asbury College/Seminary. Ralph then returned to Canada with his family where he taught at Hillcrest Christian College and pastored several Evangelical churches. Between his teaching and pastoral roles, Ralph also worked a stint at Alberta Gas Chemicals and as a heavy equipment operator until retirement.
Ralph was extremely devoted to his family, enjoying every minute he had with his children, grandchildren and great grandchildren. He was also extremely devoted to his faith. His love for God was evident in his love to lead bible studies and engage in conversation around his Christian faith, especially on creation and revelation. One of his other loves was watching and discussing sports as he was a passionate fan of the University of Kentucky Wildcats, Calgary Flames and the Calgary Stampeders. He was also an avid gardener and enjoyed sharing his produce with his family and friends.
---
3 responses to "Obituaries"