Two ATS Giants Pass into Glory: Dr. Don Joy and Henry Clay "Pennie" James
Every month, we release an obituary article honoring all those of our number we know passed into glory the previous month. Occasionally, we feature a specific obituary when someone who leaves a larger, lasting impact on our community. This past month, we have had two in our community who leave a legacy of faith and faithfulness connected to Asbury Theological Seminary. We mourn the loss of Dr. Don Joy and Henry Clay "Pennie" James and pray for the comfort of their families and closest loved ones. We are grateful for the legacy they have left us, and we lift our chins and carry their torches with integrity into the future. Well done, good and faithful servants. Rest in your reward.
---
Dr. Donald Joy, Former Professor at Asbury Seminary Passes Away
Official Press Release: WILMORE, KY—Dr. Donald Marvin Joy, Professor Emeritus of Human Development and Family Studies at Asbury Seminary, passed away June 6, 2020.  A memorial service is tentatively scheduled for September 19, 2020 at the Free Methodist Church in Wilmore, Ky. The Seminary extends condolences to Dr. Joy's family and invites all who wish to sign Dr. Joy's online guest book at Betts and West Funeral Home.
Dr. Donald Joy's Obituary
August 20, 1928 – June 6, 2020
Donald Marvin Joy, 91, husband of Robbie Flynn Bowles Joy, of Wilmore, passed to his heavenly home on Saturday, June 6, 2020. He was born in Dodge City, Kansas, on August 20, 1928 to the late Marvin E. and Marie Joy and was delivered by the famous "Doc" E.W. Adams, son of the original Boot Hill doctor depicted on TV.
Don was a retired Professor of Human Development and Family Studies at Asbury Theological Seminary, former Pastor, Executive Editor, and an author of 17 books. He had also worked at the bequest of two Presidents of the United States, conducting seminars on men's and women's issues at the Pentagon and internationally. Don was preceded in death by his 67-year-old son, John Marvin Joy, and a sister, Anice Faulkner.
He is survived by his son Michael Charles (Kathy) Joy, a brother David (Karen) Joy, a brother-in-law, Calvin Faulkner. Don also had six grandchildren, Jason (Nicole) Joy, Heather (Josh) Damron, Jami (Ray) Taylor, Lesli Schaffer Joy, Jordan (Paula) Joy, Justin Joy and 16 great grandchildren.  
---
Obituary of Henry Clay "Pennie" James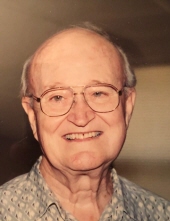 April 7, 1929 – June 8, 2020
Henry C. "Pennie" James passed away on Monday, June 8 in the early afternoon. It was a gentle transition into eternity. He was married to Dorothy "Dot" James for nearly 65 years.
April 7, 1929, Pennie was born at home on the corner of Morrison St. And Pleasantview Dr. in Wilmore. He is one of the rare individuals that graduated from every one of Wilmore's educational institutions—Wilmore Elementary through High School (1949), Asbury College (1953), and Asbury Theological Seminary (1960).
The son of Archie Kavanaugh and Nannie Wilhoit James, he was preceded in death by his five siblings: Joe, Charles, Clarence (Billy), Mary, and Alice.
He was employed by the Wilmore Post Office in high school: after college and graduate degrees, he spent 20 years working for Asbury Seminary as a development officer and Director of Publicity. He then moved to Asbury College in the same rolls for 20 years until he retired in 1994. He also served 20 years as Wilmore's Police Court Judge and City Councilman—receiving the Key to the City from his colleague Mayor Harold Rainwater upon retirement.
Over the same years, Henry was an 18-year correspondent for the Lexington Herald Leader, writing feature articles about the region, Wilmore, and its institutions. His religious articles have appeared in The Upper Room, Christian Life magazine, The Herald (Asbury Seminary's periodical), as well as designing advertisements for major publications, including Time Magazine.
James is also the author of two widely-circulated books: "God's People Revived" (an account of the 1950 spontaneous revival at Asbury College in which Henry himself was saved), and, co-authored "Halls Aflame" with Paul Rader (an account of the 1950 & 58 Asbury revivals). He wrote a chapter in and helped edit "One Divine Moment" (the story of the 1970 revival that echoed around the world). These books have received renewed attention in the last several years.
At home, Pennie was a mechanical wizard and engineered several unique house solutions. He also did lots of housework, which allowed Dot to have the career she loved. For 51 years, she worked—mostly evenings—as Interlibrary Loan Associate at Asbury Seminary after graduating from Asbury College in 1958. Dot is an endeared servant to generations of Asbury's graduate and doctoral students.
Pennie and Dot have three sons, Jeffrey, a recognized space/furniture/art designer (whom Pennie help start Frames by James in 1980); Gary, a corporate computer programmer now working for State government; and, Tim, a talented former professional musician. They also have four grandchildren—Aaron James (wife Jennifer), Aubrey Nickell (husband Scotty), Tony James, Kayla James, and four great-grandchildren.
To plant a beautiful memorial tree in memory of Henry Clay James, please visit our Tribute Store.
---
One response to "Two ATS Giants Pass into Glory: Dr. Don Joy and Henry Clay "Pennie" James"
---
Seedbed.com
---