Alumni Link
Updates, Events, and Publications
Published Date: January 4, 2022
AUTOBIOGRAPHY OF DR. ALFRED KALEMBO
The autobiography of Bishop Alfred Kalembo, Breaking Barriers, is his fascinating story of growing up in a remote African village, securing an education against all odds, becoming a minister of the gospel, and finally serving as Chairman of the Council of Churches of Zambia, his homeland. This is an amazing account of how a boy, who had no shoes until he was 15, would later preach the eulogy at the funeral for the president of Zambia. With compassion for the poor and marginalized of his country, his influence has spread into many African nations as well as the United States.
To get more information or to purchase Dr. Kalembo's book, please follow this link.
THE COURAGE CENTER NAMES RANDY RUSH AS EXECUTIVE DIRECTOR
The Courage Center (TCC) has selected Randy Rush to lead South Carolina's only Recovery Community Organization focused on teens and young adults and their families. TCC provides adolescents ages 14-18, young adults ages 19-26, and families with no-cost tools and services to guide them on their journey to recovery from substance misuse or substance use disorder. Randy, a certified Family Recovery Coach and long-term TCC Board member, started as executive director on November 8, 2021.
"The Courage Center is a powerful resource for our community," Randy said. "Our family has personally benefitted from TCC's programs, and I have been privileged to mentor others in their recovery process. I am motivated and inspired to bring TCC's urgently-needed, no-cost recovery support services to more families in South Carolina."
Randy will also lead TCC's efforts to reduce the stigma associated with substance misuse and substance use disorder. "Addiction is a chronic brain disease, not a moral weakness," Randy said. "Shame can reduce the willingness of individuals to seek help. That is why our stigma reduction campaign (#CourageOverStigma) is so important."
"We can't think of a better person to lead us into our next phase of growth to meet the community's needs," said Dr. Pam Imm, current Board chairperson and interim Executive Director. "Randy understands how addiction impacts families and communities and has extensive experience with business operations and community engagement."
Randy and his wife Susan are both certified Family Recovery Coaches. Randy graduated from the University of South Carolina and from Asbury Theological Seminary and is currently a candidate for a Doctor of Education in Community Care and Counseling from Liberty University. An ordained minister in the South Carolina District of The Wesleyan Church, Randy has served both Wesleyan and United Methodist congregations and brings decades of executive management and community engagement to his newest leadership role.
Visit www.CourageCenterSC.org for more information about TCC or call Trish at (803) 369-3905 to be connected to TCC's no-cost recovery support services.
The Courage Center is a 501(c)3 nonprofit headquartered in Lexington, South Carolina that provides one-on-one recovery coaching and peer support services at no cost to participants. TCC is the only Recovery Community Organization in South Carolina focusing specifically on adolescents ages 14-18, young adults ages 19-26, and their families. Reach us at (803) 369-3905 or visit CourageCenterSC.org.
A NEW EDITION OF THE ASBURY JOURNAL
The Asbury Journal publishes scholarly essays and book reviews written from a Wesleyan perspective. The Journal's authors and audience reflect the global reality of the Christian church, the holistic nature of Wesleyan thought, and the importance of both theory and practice in addressing the current issues of the day. Authors include Wesleyan scholars, scholars of Wesleyanism/Methodism, and scholars writing on issues of theological and theological education importance.
JOHN BANTER, ASBURY SEMINARY ALUMUS, HONORED FOR EXCELLENCE IN EDUCATION
John Banter, Ed.D., associate director of the Office of Leadership and Community Engagement, recently won the Robin Orr Outstanding Practitioner Award from the Association of Leadership Educators (ALE). Given annually during the ALE national conference, this award recognizes a distinguished practitioner for their significant accomplishments and contributions to leadership education and related fields.
The award is named in memory of Robin Orr, a longtime member and past president of the ALE.
DR. SHIVRAJ MAHENDRA RELEASES A DEVOTIONAL BOOK IN THE HINDI LANGUAGE
Dr. Mahendra recently announced the publication of his new book The Message of the Bible. It's a 365 day daily devotional in Hindi language. Published by the Indian Society for Promoting Christian Knowledge, this is a timely gift for the Hindi speaking Christians worldwide.
For more information, or to order the book, click here.
STEPHEN HEBERT RELEASES COVID-19: ONE FAMILY'S JOURNEY
Enjoy reading this dynamic story about the author, Stephen Andrew Hebert, his life, his careers as a pastor and registered nurse, his walk with God, and his family's journey as he went from being a frontline caregiver to becoming a critical care patient who was fighting for his life.
First, hear about the significant stories and pivotal moments that motivated Stephen toward a deeper relationship with the Lord and a career in health care, which was later followed by a call to pastoral ministry. Then take the walk with him as he leads the reader along through his initial forty-day battle with the COVID-19 virus and his invigorating vision he experienced while his life and his lungs were being supported by the ventilator. All of this led to a three-month recovery period, which was full of hilltops and valley bottoms but consistently driven by the hand of God while being shielded by His unfailing grace.
Read the inserts by his family and friends as they share their reflections and they discuss their experiences and their pain while being fully invested and completely engaged in Stephen's well-being and recovery. Finally, Stephen acknowledges the intersections he and his family encountered while dealing with the COVID-19 virus and its long-hauling aftermath; he discusses the implications and the impact that each had on them at this juncture in their journey of life.
Please see here for more information or to purchase the book.
A DEVOTIONAL FROM JACOB GUOT
In the Old Testament, in the book that bears his name, Nehemiah tells us that he was a cupbearer to the King of Persia. This was a very high and responsible position, especially for an exile to have. The possibility of poisoning the ruler of the land was very real, and the cupbearer had to be a very trustworthy person to serve the king. Some residents of the city of Jerusalem visited Nehemiah to bring him the bad news about his home. They told him, "Those who survived the exile and are back in the province are in great trouble and disgrace. The wall of Jerusalem is broken down, and its gates have been burned with fire." (Nehemiah 1:3 NIV).
I, Jacob Guot, have taken Nehemiah as my role model. He was a man who not only prayed for his people, he returned to Jerusalem and did something about his people's troubles – he directed the rebuilding of the wall to ensure the safety of the city… READ MORE.
GOOD WORKS, INC. CELEBRATES 40 YEARS OF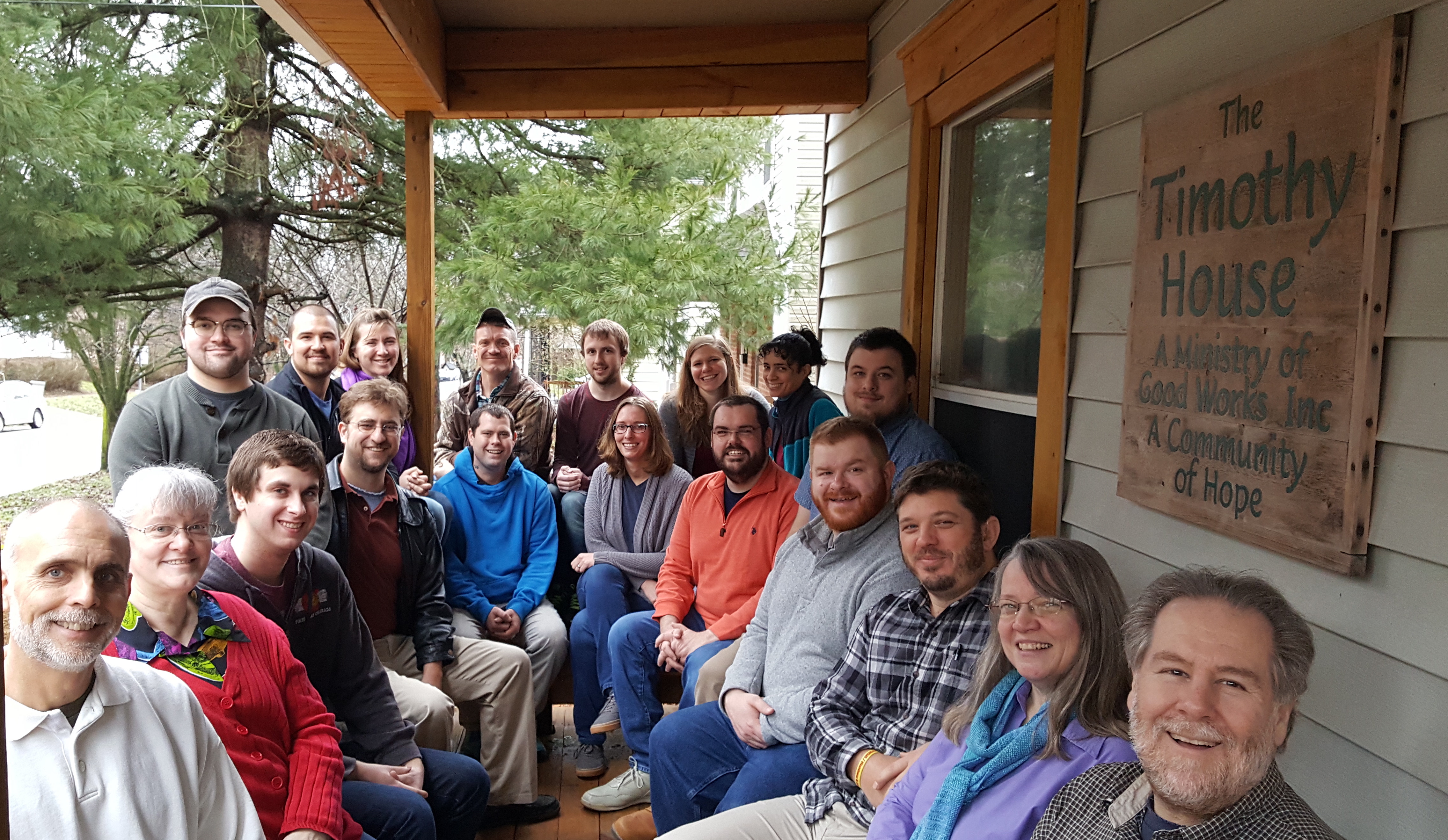 BRINGING HOPE TO THEIR COMMUNITY
Founder of Good Works, Keith Wasserman, had this to say: "We are about to start year #41 on January 1st! Happy Birthday Good Works! During the fall of 1980, we remodeled the basement of our home on Elliott Street in Athens to prepare a place for 'the displaced'. This was the only language we had at that time. We opened up on January 1st, 1981 and immediately started welcoming adults and children who had nowhere to live. I would later learn that the very idea of preparing a place (or making room) has everything to do with the biblical vision of hospitality! We had vision, and energy, and zeal, and love, and we were full of compassion. But we had no idea what we were really doing. Looking back, I think we had faith and God honored our faith. I just feel grateful for the goodness of the Lord, the kindness of friends and strangers, and all of the wonderful partners who have joined with us in this adventure of love over all these years!"
Over the years, several different ministries have come under the Good Works, Inc. umbrella. They have made a hugely positive impact on their community in Athens, OH and beyond. To learn more about what Good Works does, see here, and to find out about their new Day In The Life initiative, see here.
REGISTER TODAY FOR THE CHURCH PLANTING INITIATIVE'S FOUR WEEK TRAINING!
In the ever-changing world around us, church leaders must be able to engage an increasingly multicultural, secular, and global context. To meet the needs of our day, the Asbury Church Planting Initiative is pleased to offer an affordable, non-residential four week training that enables participants to learn while remaining in the context of their current ministry.
Each week, participants will engage with a live virtual event led by world-class scholars and expert practitioners (Dr. Jay Moon, Dr. Winfield Bevins, Dr. Tony Headley, Dr. Emilio Alvarez, and Dr. Brian Taylor) over the course of four Saturday workshops. Our church planting training typically costs $1,000 per participant. Thanks to both a generous donor and the Lilly Endowment Fund, we are able to offer this training for a major discount: $150!
We want to invite you and many other church planters join us in February as we seek to plant Resilient Churches for Today's World! Register here, and follow this link for the training schedule and more information.
JOHN HARNISH PUBLISHES HIS BOOK ON E. STANLEY JONES
If you want to learn from a noted missionary with connections in the Asbury community, Thirty Days With E. Stanley Jones: Global Preacher, Social Justice Prophet is the book for you! Written by an alum of the seminary, it recounts a number of stories from the life of E. Stanley Jones. Here is an excerpt from the publisher:
"The Rev. Dr. John E. Harnish, himself a noted Christian educator, writer and pastor, has written 30 short, inspiring true stories from Jones' life and the people that he touched, that illustrate the timeless, loving wisdom that he believed lay at the core of Christianity.
"The stories can be read as daily devotionals or could be discussed with friends or within small groups, Sunday schools and congregations. The book includes a complete discussion guide as well as links to introductory videos by Harnish that can be used to spark discussion in your group."
To learn more, or to purchase/preorder the book, please see Front Edge Publishing or Amazon.
---