Alumni Link
What's New at Asbury Church Planting?
Published Date: January 2, 2023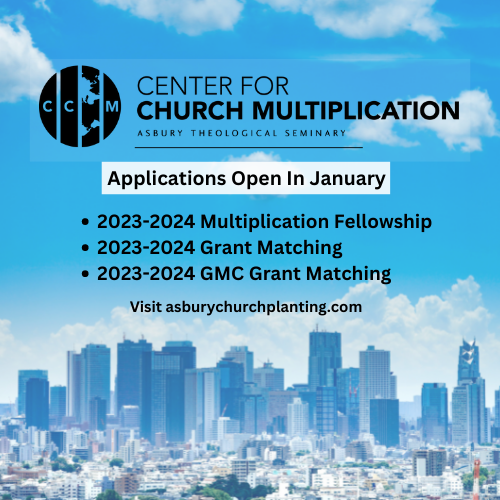 We invite you to visit our website to view the requirements for the multiplication fellowship, grant matching, and Global Methodist Church grant matching program.
We will begin accepting applications for the fellowship and grant matching programs January 1st 2023, and the deadline to submit applications is June 1st, 2023.
**As a note, the Global Methodist Church Grant Matching program is currently on a "rolling application" and does not have any particular deadlines.
US Domestic Church Plants Only
Visit the website – click on the "Mobilize" tab.
2022-2023 Asbury Grant Spotlight: Alyssia Ocasio, Blueprint Community Church
Born and raised in inner-city Chicago, Illinois, Alyssia is fluent in both English and Spanish. She is a third-generation Latina, whose family originally came from Puerto Rico. In 2008, Alyssia married Hector Ocasio and they have a 10-year-old son named Matthew. In 2013, Alyssia sensed a call to ministry. She earned a BS in Leadership and Ministry from Grace Christian University and served a two-year pastoral residency at Kentwood Community Church while becoming a licensed minister in the Wesleyan Church. She currently pastors Blueprint Community Church in Garland, Texas. Blueprint Community Church first launched on February 28, 2021 and is focused on joining God in bringing unity and transformation to the city of Garland.
Click HERE to see Blueprint Community Church's website.
New Podcast Episode with Valarie Grimes
Valarie is the pastor/planter of Radiant Church Savannah an Evangelical Covenant Church in Savannah, GA. Radiant's vision is to be a church without walls bringing the hope of Jesus to everyone, everywhere." Her passion is to inspire people to realize their God-given purpose. Valarie is a Certified Healthy Rhythms coach, an international speaker, and a Registered Nurse of 27 years. Her most important roles, however, are the ones she holds in her family. She is married to Rahman Grimes, a 35-year partnership. Valarie is the mother of two and a "Gigi" of two of the most brilliant grandchildren ever born. Her desire is to continue to influence others to become Christ-followers and lead Radiant lives.
As we await the CCM Masterclass Library, you can enjoy the Video Library in the meantime!
Making New Disciples in Europe with Øivind Augland and Raphael Anzenberger Expo Europe | Special CCM Video
You can listen to the audio or watch the video of this interview.
---