Prayers for Turbulent Times from Asbury Seminary
Join the Asbury Theological Seminary community as we pray for one another, the Church, and the world.
These prayers from students, staff, and faculty at Asbury Seminary were written in response to the turbulent times of the Spring and Summer of 2020. With many unknowns and anxieties, we joined together to lift our requests before God – Father, Son, and Holy Spirit. We hope that you will find your spirit renewed by these prayers today and that you will join us as we continue to pray that God would revive our world.
Brian Ballinger, student – 5/29/2020
Father,
It is the season of graduation. Many of our friends are moving away to fulfill the call you have placed on their lives. And even those who remain at Asbury, as we watch our friends travel to new places, we begin to think about the call you have placed upon our own lives and what awaits us in the places of ministry to which we will go. Therefore, Father, as we all think about traveling to new places and fulfilling our ministries in this graduation season, please help us to remember the words of your faithful apostle Paul: "And now, behold, I am going to Jerusalem, constrained by the Spirit, not knowing what will happen to me there, except that the Holy Spirit testifies to me in every city that imprisonment and afflictions await me" (Acts 20:22-23). Like Paul, Father, we are constrained by the Holy Spirit to travel to new places of ministry—not knowing what awaits us except that Jesus said that he sends us out as "sheep in the midst of wolves" (Matthew 10:16). Therefore, Father, teach us to remember what it was to Paul that was more valuable than his very life: "But I do not account my life of any value nor as precious to myself, if only I may finish my course and the ministry that I received from the Lord Jesus, to testify to the gospel of the grace of God" (Acts 20:24). Like Paul, teach us to walk the Calvary road with Christ. Teach us that "the reproach of Christ [is] greater wealth than the treasures of Egypt" (Hebrews 11:26). Teach us to "endure suffering, do the work of an evangelist, fulfill [our] ministry" (2 Timothy 4:5). In Jesus's name we pray, amen.
Tammy Hogan, staff – 5/28/2020
Kind Father,
We thank you that your steadfast love never ceases and that your mercies are new every morning. Today, we ask for a fresh outpouring of your mercy, and may we begin to understand the depths of your love. May we remember that you have lavished your great love on us, so that we should be called the children of God. As we walk through these turbulent times, let us walk as your children. Let us walk by faith in you and not by sight. As we walk through the depths of this valley, may we see you in the heights of your glory.
Lord, we pray that you would calm the storm that is brewing all around. We also ask that joy would come in the morning after the heaviness of this night.
We ask this humbly in the name of Jesus,
Amen.
A.J. Robinson, student – 5/27/2020
Lord,
We find ourselves in very unfamiliar territory – strangers without knowing exactly what to do and how to maneuver through this time. As heightened of a season that this has been, and may continue to be, we ask for an abundance of your peace. While it may be easy to cling onto the anxiety and fear of not knowing when things will subside, Lord, let us choose to look to you – relying on who you are and your unchanging nature found there within. Allow for us to bring to you our feelings surrounding this time, and to lay them before you. We pray that you will meet each and every one of us where we are, and to see us through. Amen.
Hunter Bethea, student – 5/26/2020
Merciful God,
We give you thanks for all that you have given us – for family and friends, your beautiful creation, and all those who have made this seminary the place that it is today. In this time of loss, sadness, and grief, we remember all that you have done for us in the past and all that you promise to do for us in the future. As brothers and sisters around the globe ache with heavy burdens, we pray that you would be near the brokenhearted and comfort those who grieve. We especially pray for those who have lost jobs, normalcy, and loved ones. Amidst all of the pain and grieve, lift up our eyes so that we never lose sight of who you are. We pray this in the name of Jesus, by the power of the Holy Spirit, and to the glory of God the Father. Amen.
Dr. Ben Witherington, faculty – 5/25/2020
Gracious and patient God:
Forgive us when we doubt your lordship in times like these when everything seems to be going wrong. Help us to look harder to see how you can and are working all things together for good for those who love you. Help us to learn how important it is to take the good advice of doctors when it comes to dealing with a virus we cannot see, because all too often for us if it's out of sight, we are in danger of thinking it can't harm us. Help us to remember that our own freedom of movement and so-called rights are far less important than our responsibilities as Christians to keep the elderly, the infirm, the vulnerable safe during this pandemic. Give us the patience to stay in place when we need to, the willingness to put others first when we ought to, and the wisdom to know the difference between being foolish and being fools for Christ in the service of others. In the name of the Father, Son, and Holy Spirit, Amen.
Dave Fisher, student – 5/22/2020
We all, like sheep, have gone astray. We wander in all directions, straying into fear, doubt, and despair; clinging to self-sufficiency, achievement, and numbing distractions. But you, Lord, are the Great Shepherd. Bring us back, we pray. Would you teach us again or for the first time to hear your voice? Grant us the grace not only to follow you, but to more fully trust you for the sustenance you offer us each day. In the name of the Father, and of the Son, and of the Holy Spirit, Amen.
Dr. David Bauer, faculty – 5/21/2020
Your Word teaches us, O Lord, that we can know you most intimately and grow in grace and knowledge most fully precisely through trouble and affliction. This is a strange and uncomfortable truth for us, and we confess that we would prefer to experience these benefits in pleasanter ways. But we understand that in your wisdom you have chosen this method for our good, and we submit to your ways. We have confidence that as we take this opportunity to actively trust you in these trying circumstances you will form us into the people that you want us to be and that you can mightily use to fulfill your good purposes in our worlds. At the same time, Lord, we pray that you would comfort those in our community who are most hurting during this period, those who are struggling with loneliness, anxiety, sadness, and perhaps even sickness. We pray, Lord, that you will help them to put these present difficulties in broader perspective: to realize that these circumstances are temporary, and that good can, and is, arising from them. So we ask you to teach us somehow to be thankful in all these things. And we pray that you will accept our thanks. In the name of Jesus, our Lord, Amen.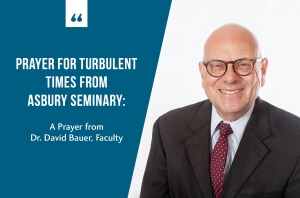 Dr. Chris Kiesling – 5/20/2020
Oh risen Christ, let our profession be also our petition,
We believe in God, the Father Almighty.
We bless you for our creation, preservation and all the blessings of this life.
The covenant of your love and your faithfulness is our confidence that we will be kept safe forever. Give to the nations the joy of your saving help again, that we can perpetually rejoice in knowing you as our loving Father and the one alone who holds all might.
We believe in Jesus Christ our Lord.
Who stretched out His arms of love on the hard wood of the cross so that everyone might come within the reach of His saving embrace. Teach us to walk in the way of the cross that we may find it in it none other than the way of life and peace.
We believe in the Holy Spirit
Who knows no social distancing. Let your pouring out on all flesh bring the nations of the world to worship in the beauty of holiness.
We believe in the communion of saints, in which faith, hope and love are brought to perfection.
We believe in the life everlasting, for death shall have no dominion.
(This prayer composed from phrases in the Book of Common Prayer that have resonated with me in these days of our kneading)
Grace and Wesley Philips – 5/19/2020
Lord, in this difficult time, we ask you for a special outpouring of your presence and grace on those who are bearing heavy weights and burdens: those who are fighting with illness, or have lost a loved one; those who are working long hours, and those without work; those who are lonely, fearful, or anxious. We ask for your healing and comforting touch.
Lord, in this difficult time, we ask that you grant us eyes to see and ears to hear the ways you're moving among us. Help us seek your kingdom and righteousness, trusting you to sustain us. Help us learn and remember to invite you into every present moment.
Lord, in this difficult time, we thank you for sustaining us to this day. We thank you for your promise to be with us. We thank you for your love made known in Jesus Christ, from which nothing in all creation can separate us. We thank you for the gift of eternal life in you.
In Jesus' name, Amen.
Dr. Craig Keener, faculty – 5/18/2020
Father, please forgive our land for turning away from your face. Please remember of humanity that we are just flesh, a breath that is here today and gone tomorrow. Rise up on behalf of your people around the world and combat this virus. Please give wisdom and ingenuity to the researchers to be able to counter the way the spiritual enemy, the devil, has weaponized this virus against humanity. Please protect and fortify the frontline healthcare workers whose service to others puts them at special risk. Please provide food and protection for your own desperate children, as day laborers or persecuted minorities, especially in northern Nigeria and parts of India and the Islamic world where they face both hunger and prejudice. Fill us with compassion, bring your church to unity, and rouse us from our slumber to serve your purposes. We pray these things in the name of your Son, Jesus Christ our Lord.
Dr. Steven Offutt, faculty – 5/15/2020
Lord,
We know that the pandemic has particularly afflicted the vulnerable. We come before you, humbly seeking your favor on their behalf. We pray for those who are living in elderly care homes. We pray for the urban poor. We pray for ethnic and racial minorities. We pray for immigrants. We pray for those who have been incarcerated.
Lord, people in these communities have been touched in multiple ways by the pandemic. Incidences of the coronavirus are often higher, and lower pre-existing health levels make many of their cases more severe. They are also, in many cases, feeling the economic and social costs of the pandemic more sharply. Have mercy upon them, Lord. We know you are already in these places; indeed, many of your most faithful followers can be found in these contexts. Fill us with wisdom and knowledge so that we might more ably connect with, and be, the body of Christ in and among those who are suffering.
Amen.
Zak Kratzer, student – 5/14/2020
Lord, we are so thankful for your presence that is always with us, that you have not forsaken us during times like this. Whether we are experiencing pain or frustration, times of lack, times of trials or even persecution, Lord, you have never left us. It's especially in these dark valleys that we know you are there. Your son, Jesus Christ, in laying down His life proves that there is no place too low for your presence to meet us.
Yet we long to gather again for worship with our communities. As our churches slowly begin to fill up again, let us remember the lessons you taught us in exile. That your dwelling place was always meant to be with Your people, not in a building. Though we look forward to being together and seeing your glory with us, it is Your Spirit that brings us together into your presence. And finally, God let us remember that Your love drives out fear, that You call us to courage in the face of crisis, for You are with us wherever we will go.
To you alone be the glory, Father, Son and Holy Spirit. In the name of Jesus, our Savior. Amen!
Dr. John Cook, faculty – 5/13/2020
Almighty and merciful God, in whose hands are our times, look with compassion we pray on your world in distress. Comfort those who suffer, strengthen those who are weary, grant your peace to those whose thoughts are troubled, and embolden your people to be a light of hope throughout the world; for the sake of your Son Jesus Christ, the Savior of the world, who with you and the Holy Spirit lives and reigns, one God, now and forever. Amen.
Ben Brinkerhoff, student – 5/12/2020
Our Father in Heaven, you are good and great; merciful and mighty; and You have shown us throughout all of history, as individuals, and as a community gathered in Your holy name that You are both willing and able to act on our behalf. Thus, we ask now that You bring the cataclysmic restoration of Your kingdom that sees the tree of life bring healing to the nations into the ups, downs, lefts, rights, twists, and turns of the here and now of our pandemic ridden lives. As we seek to become participants in and ambassadors of Your kingdom, please sustain us in a way that teaches us dependence upon You and, by the power of Your Spirit, transform us into one another's daily bread. As the stress of our times exposes the cracks in our lives, cultivate us into a merciful people as you show us mercy and lead us not into temptation, but deliver from all sorts of evil – moral failings, the decay of death, and the systemic oppression that flows from the curse. We ask this in the name of the one whose is the kingdom, the power, and the glory forever – Jesus the Messiah. Amen.
Keyla Gonzalez, staff – 5/11/2020
Dear Lord,
We come before you with a spirit of thanksgiving. Your word says: "in everything give thanks…" 1 Thessalonians 5:18.
And we thank you today for your mercy and grace. For your everlasting love. For your protection and care.
We thank you because you supply All of our needs according to your riches in glory. Thank you Lord, because you are a good, good Father. We worship and adore your name!
Even in the difficult times we are living today, we see your hand moving in our midsts. You are the waymaker. The promise keeper. And we take hold of all your promises in your written word and trust you. May our faith be strengthened as we continue to see you working in our lives. May we remember that in Isaiah 41:10 you tell us not to be afraid and not to worry because You are with us.
May your name continue to be glorified amongst our students, faculty and staff at Asbury Seminary. I pray for a special blessing and covering for our students during this time. May they feel your peace surrounding them and their families. May you bring clarity and directions in the midst of decisions being made.
We know we have the victory through you! Thank you Lord. In the name of Jesus we pray these things. Amen.
Dr. Steve Ybarrola, faculty – 5/8/2020
Lord, would you help us to focus on you when so many things are drawing our attention. Lord, would you help us to understand that in the midst of crisis, you are the Lord of crisis. Lord, would you help us to realize that you are the One who walks among us, comforting us as you did the humbled in your own context. Lord Jesus, we trust in your unfailing love to us, and believe that You care for us more than we care for ourselves. Guide us, lead us, and make us forever thankful that it is YOU, and not us, that leads us, guides us, and makes us thankful that we are your disciples.
Kim Bolden, student – 5/7/2020
Dear Lord,
In this season, there are many questions and concerns. Some have stumbled into the abyss of anxiety; others wander in the wasteland of worry, while dear ones lament in the garden of grief. I pray, Oh Lord, that you will be our present help in this time of trouble. Open our spiritual eyes so we can have a proper perspective to discern what you are doing in this hour. Calm our hearts and quicken our spirits. Teach us to keep pace with you––not rushing to keep up–– but with slow and methodical steps of faithfulness. For those riddled with significant sickness: Be Jehovah Rapha ––the Lord who heals. For those who experienced loss: Be the Great Comforter. For those in need of renewal: Be Living Water. Lord, by the power of your Spirit, give us a posture of worship in the wait. We, your people, are people of Pentecost! A people born of the Word and the Spirit through salvation and suffering. Give us the gift of endurance. You are the bedrock on which our hope is built. Bolster our faith and fill us with unspeakable joy. Remind us that in our scattering, we the church are one. We entrust all that concerns us into your loving care. We pray this in the matchless name of Jesus Christ! Amen!
Danny Key, staff – 5/6/2020
O Lord our Sovereign, how majestic is your name in all the earth!
We praise you O God, we acknowledge you to be the Lord!
We come to you now humbly and painfully aware of our sins and shortcomings. We deceive ourselves if we say we have no sin so we confess our sins now of commission and omission. You have said you are faithful and just to forgive our sins and cleanse us from all unrighteousness so we thank you most loving and merciful Lord!
Thank you O God for adopting us as your children through your son Jesus and putting at our disposal every spiritual blessing in the heavenly places! We so often take for granted these blessings and do not appropriate them into our lives. Help us to live these difficult and uncertain days not just "getting through this" but in victory through the power that these heavenly blessings afford us!
We now pray for those across our community, nation and world who are suffering because of this present virus as well as other illness and injustice that the evil one puts upon this world. We pray in the powerful name of the risen Christ for healing and peace! Have mercy upon us most merciful Father!
Peace be to our whole community and grace be with all who have an undying love for our Lord Jesus Christ. In the name of the Father, the Son and the Holy Spirit, Amen!
Courtney Dunn, student – 5/5/2020
Most good and gracious God,
We come before you today with hearts full of questioning but also with hearts of praise. During this season of questioning, I am reminded of the great proclamation Habakkuk gave during a season of doubt and turmoil. May the praise of Habakkuk continue to flow from our lips today in saying: "Lord, I have heard of your fame; I stand in awe of your deeds, Lord. Repeat them in our day, in our time make them known; in wrath remember mercy. God came from Teman, the Holy One from Mount Paran. His glory covered the heavens and his praise filled the earth. His splendor was like the sunrise; rays flashed from his hand, where his power was hidden. Plague went before him; pestilence followed his steps. He stood, and shook the earth; he looked, and made the nations tremble. The ancient mountains crumbled and the age-old hills collapsed— but he marches on forever." For we know that nothing in this world will last forever but we know that you will. We can be assured, O God, that your Kingdom will forever reign and the disruptions from COVID-19 will result in the manifestation of praise to you from all over the world. May we continue to look to you, to call out to you, and to praise you in these days of questioning and the days to come.
It is in the powerful and life-giving name of Jesus Christ that we pray,
Amen.
Dr. Winfield Bevins, faculty – 5/4-2020
Dear Lord, You are the Risen Christ, the Prince of Peace, the Mighty God, and the Everlasting Counselor. Grant us peace of mind and help our hearts to not be troubled during these difficult and uncertain times. Give us the strength and grace to trust you even when we cannot see the way. Remind us that you will never let us go and that you will always hold us in your everlasting arms of love. We ask all of this in the name of Jesus Christ our Lord. Amen.
Champ Squires, student – 5/1/2020
Father, Son & Holy Spirit, in these days when everything around us, above us, and the ground beneath us seems to be unsettled and shaking, remind us that you are unchanging and the immovable rock. For Christ the solid rock I stand all other ground is sinking sand. Lord Jesus, keep our eyes and mind ever fixed on you so that our gaze is directed upward. It's so easy in times of trial and difficulty to feel like we're walking through the wilderness. Lord in our humanness do not let us settle for the path of least resistance or for the waterholes that pigs wash themselves in but Lord, give us the strength and the endurance to keep moving forward to climb the mountain and give us the endurance that we need not just for the days ahead but for the here and now. It's because of you, Lord Jesus, that we know better and brighter days are ahead of us and that the best is yet to come. All we have to do is take you at your word and trust in you with the confidence and the assurance that you've been faithful before and you'll be faithful again. Lord, oh how we need you. Amen.
Jay Endicott, staff – 4/30/2020
Jehovah-Jireh, our provider, we put our faith and trust in you. Like Abraham, we may not know what lies ahead in this journey we are on, but we are certain you do. We know that all things work together for your glory even though we may not see it. Forgive us Lord for our pride, thinking we know best, may we humble ourselves before you. Forgive us for taking the simple blessings of life for granted as we are reminded they are your gifts. Forgive us for letting the busyness of our lives get in the way of a deeper relationship with you. Renew a right spirit within us, o Lord, as we trust you during this time. Fill us with your love so that through you we can bring hope to the hopeless, food to the hungry, comfort to the hurting and truly love our neighbors as you love them. Show us how we can be your hands and feet in our community of influence and give us your eyes and ears to faithfully respond to those in need. Help us fix our eyes on you and not the storm we now face, so that through this storm more will come to know you in a powerful way. For all glory, honor and praise are yours, now and forever, in Jesus name. Amen.
Joachim Mbela, student – 4/29/2020
Dear Heavenly Father, we humbly come before your throne of grace seeking your face.
Assured of your love and mercy, we stand before you in faith. We bring all our fear to you and leave it at your feet.
In the midst of all our turmoil, grant us your peace and let us be still. Let us know that you are God and you are in control. You, oh God, calm the raging sea, and the storm. Nothing is above your power. By your Word, the world was brought into existence, and by your power, all things are being sustained (Heb 1:3). We keep our eyes fixed on you, our Father! In you alone, we take refuge (Psalm 141:8). Help us put our hope in you alone, to be assured that no matter what may happen, you will not be lacking in power to come to our rescue. Keep us from forgetting who we are, despite our social distancing—that we will show love and compassion at this time when they are most needed. In so doing, we fulfill what you recommend: you said "By this all people will know that you are my disciples, if you have love for one another" (John 13:35). Help us be our brother's keeper in our community as we all endure this time of uncertainty.
In Jesus' name, we pray this! Amen!
Dr. Toddy Holeman, faculty -4/28/2020
Gracious and Loving God,
You surround us with your loyal and faithful presence every moment of every day. We are never alone, Lord, for you are with us. Yet, in our own moments of anxiety we may feel isolated from you, even abandoned by you. Help us to return our eyes to you when we are caught in waves of anxiety because when we are able to focus our attention on you, Immanuel, God with us, our fears recede, diminish, and fade away. In returning to You, we are captivated in increasing measure by your calming Presence. Remind us, that while we may need to practice physical distance from others in our faith family, you have promised to never leave us nor forsake us. Holy Spirit, help us to fix our eyes upon Jesus, the one who invites us to draw near in times of trouble and find true peace.
Robyn Florian, student – 4/27/2020
Father God, You are our One Hope. When life breaks, You are our sustaining, comforting hope for repair and redemption. Help us to hope in Your presence in midst of disappointment and despair. You are our Great Physician, ready and able to heal the brokenness around us. Help us to trust in Your power to renew and restore according to Your will and Your timing. In the ongoing uncertainty and fear, help us to wait and wonder with awe and respect, while we reflect our hope and Your love to the people around us. Amen.
Dr. Steve O'Malley, faculty -4/24/2020
May the faithful Jesus have mercy upon each person whom God has created, and especially for each one here who has heard Your call to prepare for ministry at Asbury. We pray also for each member of this community of faith and learning, that we together will draw closely to You, even as You are searching for us to allow Your Presence to enter more deeply into our hearts, and minds, and in all that we are, that You might be not only the Savior who is for us, by virtue of your precious death on the cross for our salvation, but also because you desire to reside as the Christ who dwells within us, through your Holy Spirit, so that we might manifest Your light and life in all that we think, do and speak. We pray for Your Presence to renew and empower us anew amid the present crisis. Be with all who suffer, either directly or indirectly, from the effects of this virus, and for this nation and world, including the many who face unexpected hardships amid these circumstances. May Your love shine through us, as a beacon to those around us, both near and far, and may we be so aware of Your Presence to us, even in this hour, that no one might think of rejecting Your Holy Spirit's direction of their lives, yes, even in every step we take. Now, beloved friends, may you also be moved in this time, through the Spirit of God in your heart, and so, to abandon yourself to Him, with the resolve that now, from this day onward, the Lord your God shall have your heart and soul, and, He will reply, I will become and I will remain hers, and his, both in time and eternity. Yes, our Lord, that is what you would work within us, for the sake of Your eternal and heartfelt love. In the Name of the Father, the Son, and the Holy Spirit. Amen.
Andrew Neely, student – 4/23/2020
Abba Father, in our intimacy with you, and only you, we find rest. We give you thanks for this day and for your grace in the morning and your mercies in the night. We thank you for your healing and your peace. Dear Lord we ask for your power and peace that goes beyond our understanding in these times of uncertainty and turbulence. We are grateful for being able to come to you at any time with our requests. In you we are anxious for nothing. We ask that your light shines brightly towards us so that we stay securely on the path you have for us, and that your light shines brightly through us to be a lighthouse for those struggling at this time. Help us not forget that the same power that conquered the grave lives in us and may that same power give us strength today. Thank you God for loving us yesterday, today, and always. We lift up this prayer in the Mighty Name of Jesus! Amen!
Dr. Sam Kim, faculty – 4/22/2020
Father, we praise and thank your grace and favor in the midst of these days. We remember again that we are like withered grass and the falling flowers of the field, but you and your word are eternal. We confess that we have deceived ourselves believing we could live by our own works and efforts.
Father, we humbly come before your throne and wait for your mercy on us and the world. May the Holy Spirit access our hearts and minds so that He may expose our hidden idols and wickedness before God. May the Holy Spirit make us repent and return to you and to the first love for you.
Father, we also remember those who are in weakness because of these circumstances over the world. Please give them your strengths and special protection. Please deepen our faith in you and let us experience your power that rose from the death. Lord declare your wonderful light to bring us and the world out of darkness and into your righteousness. We offer this prayer with thankful hearts and unending praise in the name of your beloved son, Jesus our Lord. Amen.
Tammy Cessna, staff – 4/21/2020
Lord Jesus, we pray for your mercy during these times of being shut in, having to distance ourselves from many we love. We ask that during this time of darkness in our world, that you would enable your children to be the light that shines. Let us be full of grace and compassion to those who may be shut in with us, and those who we may only see through social media. Lord, give us generous spirits in this time when fear has prompted selfishness and hoarding. Remind us of our firm foundation in You; let us not be shaken. Bring to our remembrance Your mighty acts recorded in scripture as well as demonstrated in personal experiences. Let us not fear, but let our hearts be steadfast, trusting in You. Let us abide in You, standing on your promise that joy that comes in the morning. In the name of the Father, the Son and the Holy Spirit! Amen.
Dr. Michael Matlock, faculty – 4/20/2020
In the name of the Father, and of the Son, and of the Holy Spirit.
Look with mercy, O God our Father, upon us during this Holy Week and during our struggles with the COVID-19 pandemic. We struggle with keeping our peace, to stay spiritually, mentally and physically well, to keep our jobs, to not feel lonely, to be unafraid, and to experience your abiding love. We are weak, but you triune God are strong. We are unwell, but you are complete, perfect shalom. We are unloving, but you are perfect love. We are ungrateful, but you are the Eucharist. We speak to you by faith in Christ, knowing that you will save us and give us your perfect peace to commune with You and our neighbors.
We grieve, O Lord, because of the losses we are experiencing: intimacy with people, jobs, illness, and death. But, alongside this human reality is the confident hope that we believers share, namely the truth: Christ has died, Christ is risen, Christ will come again. Make us well. Make us whole. Help us to set aside the demands of our lives and recline at the table of your Word and your Body through these holy days. All this we ask through Christ our Lord. Amen.
Samuel Odubena, student – 4/17/2020
Most merciful God, whose wisdom is beyond our understanding, look favorably on Your whole creation, especially human beings—the creatures You wonderfully and fearfully made but are now suffering from a deadly pandemic. By Your sovereign power, forgive us our sins, heal our land, safeguard us and all those who are working tirelessly to combat the virus and to save lives; Vouchsafe to ward off the pestilence from our midst, O God. Stir up in Your church the Spirit of boldness and discernment that we may know that amidst this crisis, You have launched us to be Your faithful witnesses; And grant that, by the life-giving death and resurrection of our Savior and Lord, Jesus Christ, Asbury community worldwide, may continue to walk in the way of the cross, draw all peoples to the fire of Your love as we await the glorious coming of Your Son Jesus Christ, who is alive and reigns with You and the Holy Spirit, one God, now and forever. Amen!
Christina Liu, student – 4/16/2020
Lord God Almighty, Ruler of heaven and earth! You are whom only speaketh and chaos comes to order – in the beginning, throughout our human history and even now still!
Like the Israelites, Father God, our human fears and circumstances overcome us (Exodus 14) but let your Grace, Mercy and Peace rain down on us scooping us up out of our self-curved weaknesses and cradle us in your safe embrace. Let us be still and let you, Lord, fight for us (Exodus 14:14), as you always have and continue to.
We ask all these in the mighty name of our Lord and Saviour, Jesus Christ!
Amen.
Dr. Russell Hall, faculty – 4/15/2020
Morning Prayer of the Last Elders of Optina
O Lord, grant that I may meet all that this coming day brings to me with spiritual tranquility. Grant that I may fully surrender myself to Thy holy Will. At every hour of this day, direct and support me in all things. Whatsoever news may reach me in the course of the day, teach me to accept it with a calm soul and the firm conviction that all is subject to Thy holy Will. Direct my thoughts and feelings in all my words and actions. In all unexpected occurrences, do not let me forget that all is sent down from Thee. Grant that I may deal straightforwardly and wisely with every member of my family, neither embarrassing nor saddening anyone. O Lord, grant me the strength to endure the fatigue of the coming day and all the events that take place during it. Direct my will and teach me to pray, to believe, to hope, to be patient, to forgive, and to love. Amen.
Kiki Johnson, student – 4/14/2020
Loving Father who holds the whole world in his hands. Thank you for not abandoning us. Thank you for watching over us and caring for us in deep ways.
Thank you for having a good plan and carrying it out even when we don't understand. Please help us to trust you The UnChanging God in these days of uncertainty. Please help us to cry out to you when we feel overwhelmed and please help us to love you more!
We ask all these things in the name of The Father, The Son and The Holy Spirit. Amen.
Dr. Jim Hampton, faculty – 4/13/2020
We use these words to describe you often, but rarely do we stop and ask ourselves, "Do we still believe them?" We know that you are good and gracious in the good times, but can we still say those words in the midst of all the chaos going on around us?
When we look around us we see people who are frightened. We see those who are in despair over uncertain economic futures. We hear the concern in the voices of people we talk to on the phone, and see the worry lines as we Zoom together. We want desperately to be able to console others, but it's difficult when we need to be consoled ourselves.
So this Holy Week, we ask you, Good and Gracious God, to remind us of what the cross and the empty grave really mean for us. We WANT to celebrate, we WANT to be reminded that the resurrection entails, we WANT to experience the hope that you provide. Most importantly, we NEED to be reminded that you and you alone are the only one able to help us not only get through this time, but to come out of it stronger than ever because you truly are a Good and Gracious God. Amen.
Dr. Tom Tumblin, faculty – 4/9/2020
And the Lord said to Moses, "Is the Lord's hand shortened? Now you shall see whether my word will come true for you or not." (Num 11:23 ESV)
Faithful and almighty God, none of life's circumstances stymie you. Your Spirit penetrates any challenge and transforms any situation. Remind us, especially during these holy days, that the same Christ who exited the tomb first drained the cup of suffering. You walk with us through life and death. You know our fears. You understand our desperation for healing. You identify with our wrestlings.
May your hand not be shortened by disease, uncertainty or isolation. Show yourself once again to be the ever-present, compassionate, active God whose irrepressible hope overwhelms us daily. Stir up the memories of how reliable you are and always will be. Infuse us with the gift of faith to trust you more as we recall your faithfulness.
Draw us close you and to our neighbors, making us the hands and feet of Jesus to an anxious world. May the peace of Christ become the contagion of our lives as we love in word and deed. Pour out your Spirit on us so we might overflow in unmistakable witness to those around us.
In the name of our Redeemer God, Father, Son and Holy Spirit. Amen.
David Abubekr, student – 4/8/2020
Oh God our help in ages past our hope for years to come our shelter from the stormy blast, Father we thank you for your continuous and abiding presence even in these difficult times of COVID-19 pandemic. We remember how you kept us through difficult times in times past, and we are trusting you to take us through these times too.
Lord we recognize that your power is limitless, as we are confronted with the situation we are requesting that you speak and still the situation. Lord in your mercy please stretch forth your hand over our world and bring healing (Acts 4:30), to all those that have been affected, grant that our front line health workers will be protected and please give them the wisdom to come up with a solution. Grant our leaders the wisdom and courage to lead our countries aright. We declare "this too shall pass".
Lord Just as you commanded the angel in 2 Samuel 24:16 "IT IS ENOUGH: STAY NOW THINE HAND.", we pray that you will STOP the spread of the virus and its effect on your world in Jesus' mighty name. You have done it before, and you are more than able to deal with this current situation.
We thank you Lord that you have brought the situation under control, and once again we are coming out more united and stronger in our faith.
Thank you, father, that you are still our Lord and our only hope!
Dr. Sue Russell, faculty – 4/7/2020
God of eternal love, may those who mourn today, be wrapped in your loving presence. May those who have experienced loss and are broken hearted experience your healing love. May those who are tired and weary, find rest in your loving arms. May those who are anxious and worried be touched by your loving care. May all of us find peace in the embrace of your love. Amen.
.
Dr. Brian Russell, faculty – 4/6/2020
Gracious God,
You are our refuge and protection. You are our rock in times of trouble as well as in times of abundance. For this we are grateful. Thank you for your kindness and grace that you freely share with us moment by moment.
Help us Lord to be persons of courage and faithfulness. Empower us to be voices of faith, hope, and love in a time of anxiety, fear and overwhelm.
Teach us God to expand our imaginations so that we may be faithful ambassadors of the Gospel in this new day of disruption in which our old models of the world don't quite fit.
Where others see obstacles and challenges, give us the eyes to see new opportunities and possibilities.
In these days of distancing and isolation, grant us new visions and dreams of how to be your Church for the sake of the world.
Guide us as always O Lord and fill us with your Holy Spirit. In you we trust and find our strength for each new day.
Unleash us anew to live by faith, be known by love, and to serve as voices of hope to those who need it the most.
In Jesus' name:
Amen
Dr. Jeff Frymire, faculty – 3/30/2020
Based on Psalm 23
O Great Shepherd of the Flock, You who watch over your children like a shepherd watches over his sheep; who protect us from danger that comes from around us and who protects us from the danger that comes from within us; who guides us through the whirlwind of fear and anxiety that comes when we walk through the Valley of the Shadow of death, we cry out to You this day:
Grant to us faith in the midst of all our fears and concerns;
Grant to us faith even when the darkness seems pervasive and the light seems to flicker like a candle in the wind;
Grant to us the long view of Your work in our lives so that we may see Your goodness and mercy operating not only in this moment but through all of our days and even beyond our days into the time of eternal rest in You;
In a time when we cannot gather in a place of worship, remind us that we dwell in Your house and we will dwell in that house both now and forever;
In a time when we are bombarded by scary news and frightening predictions, remind us that Your goodness and mercy will follow us each and every day of our lives; indeed, all the days of our lives.
So that we may sit at Your table, sustained by Your Grace;
So that we may be anointed with the oil of Your Presence and the excesses of Your great love;
So that we may find ourselves lying in green pastures instead of stormy seas.
We pray this through the One who is the Shepherd of our Souls, the Guardian of our lives, and the Overseer of our futures – Jesus Christ the Good Shepherd. Amen
.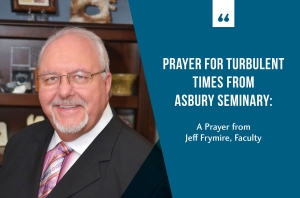 Chris Coppernoll, staff – 3/29/2020
Precious Lord, You've gathered us into a unique community. We have lived side by side in classrooms, dorm rooms, and shared meals in the dining hall. We have stood elbow to elbow worshipping in the chapel. Now, dispersed in the era of Covid-19, we feel sequestered behind closed doors, our community scattered. This is abnormal to us. We know intuitively that separation and isolation have the potential to harm us if we forego finding new avenues for connection. So, Lord, we ask, would you grant us fresh gratitude for the value of our community? We ask for the grace to remain relationally connected, even while we are socially distancing. Lord, You said, "Where two or three gather in My Name, there am I with them." Thank You for the assurance of Your Presence when just two or three can gather. Help us build infrastructure to bridge physical distances and come together for fellowship. Show us how to continue in ministry in light of our present circumstances.
Gregg Okesson, faculty – 3/28/2020
Gracious Lord of the Universe, we pray for courage in the face of fear, and love for one another amidst sickness and death. Deepen our faith and love during this season, united with brothers and sisters all around the world. And we pray with the Psalmist, 'Lord, be gracious to us; we love for you. Be our strength every morning; our salvation in times of distress' (Psalm 33:2). We pray this in the Name of the Father, Son, and Holy Spirit. Amen.
---
Dr. Steve Gober, faculty – 3/27/2020
Heavenly Father, we humble ourselves before You. You have created us, sustained us, and redeemed us. Your love, mercy and grace flood our hearts with joy. Therefore, we come before You with confidence. We reaffirm our allegiance to You alone. We trust in You. We cry out, Lord heal our lands.
Forgive us for the hardness of our hearts, our independence, and our failure to follow You perfectly. Awaken us, renew a right spirit in us, and realign our thoughts so that we may live in unbroken communion with You. We cry out, Lord heal our lands.
We pray for those most vulnerable; whose immune systems are compromised; for the unemployed and underemployed. Lord, be their Protector, Provider, and Promise for a better day. Mobilize us to be expressions of Your love, mercy and grace. We cry out, Lord heal our lands.
Thank You Lord, for You hear our prayers and promise to be with us always. We praise you, worship You, and profess that Yours is the power and the glory now and forever. In the mighty name of Jesus, we pray, Amen.
Rev. Nicole Sims, staff – 3/26/2020
Prayer adapted from Psalm 121
Lord, we lift our eyes above our circumstances and fix our eyes on you!
You are our Maker of heaven and earth and You are where our help comes from! Thank you God that you are not surprised by the troubles facing this world because you neither slumber nor sleep. You are our Keeper, our Shade, our Shelter. Please keep us from evil and give us wisdom for our going out and coming in today. Thank you that our lives are in your hands. We take confidence in your ability to guard, guide, and care for us this day.
In the Mighty name of Jesus we pray,
AMEN!
Rob Lim and Ruth Chieng, students – 3/25/2020
Speak to us, O Lord! That we hear your voice in the midst of this trial. Teach us to live in unity where there is separation, have hope when there is fear, pour out love where hate arises, hold peace when there is trouble, and testify the name of Jesus where there is silence.
Dr. Anthony Headley, faculty – 3/24/2020
Almighty God, Our heavenly Father, during times of crisis and international and national emergencies, our fainting and anxious hearts have no safe refuge but you. In this present crisis revolving around the pandemic COVID-19, our hearts, minds and voices once again cry out to you. In the midst of anxiety and fear that seems to exude from many quarters and threaten to envelop us, we turn to you. For who else but you can calm our anxieties and speak peace in the midst of this current storm! You have promised that you will keep those in perfect peace whose minds are stayed on you. Let this peace that transcends all understanding, guard our hearts and minds in Christ Jesus! May the comforting presence of your Spirit likewise keep us calm and secure! As a result, may we experience a quiet confidence in you that quells threatening fears and rising anxieties. Grant that while fully trusting in you, we will also cooperate with you by taking all possible human precautions that help to stop the spread of the coronavirus. We pray this in the name of Jesus Christ who triumphs over all things, even fear and death. Amen!
Dr. Ellen Marmon, faculty – 3/23/2020
We're beginning our second week away from our campuses and near to only those in our "immediate family." Things are starting (barely) to sink in, Lord. The world you so love is experiencing a common crisis. We are exiled from each other and from familiar patterns of living. Could you please remind us through your Word, the witness of your Holy Spirit, and the kindness of our brothers and sisters, who you want us to be in the midst of this mess? Reveal ways that your daughters and sons can reflect your goodness and our trust in you to others. Let us, like your people long ago, gather only what we need for each day, no more and no less. Give us the courage to leave provisions where others can glean them, marveling at your generous ways. Amen.
Shivraj Mahendra, student – 3/22/2020
Eternal God, Our Creator and Sustainer: Thank you for the gift of life. Thank you for your mercies that are new every morning. Life and wellbeing are your amazing gifts. Today we are surrounded by fear of a deadly virus. Heal our fear, give us faith. We declare that sickness and death are in Your control. We pray for healing and protection from Covid-19. We repent of the human causes that might have triggered it. We pray for Your divine grace for immunity for everyone around the world, and especially our community. We speak courage to those who are struggling and comfort to those who suffer or mourn. Lord, help us to be instruments of healing and hope for our world! In Christ's powerful name, Amen.
Dr. Jonathan Powers, faculty – 3/21/2020
Almighty God, who joins us in our joy, hears us in our grief, and meets us in our suffering; we confess to you that we are afraid, we are saddened, we are confused, and we are anxious due to the disruptions of life caused by the COVID-19 pandemic. Our hearts are troubled within us and our spirits are downcast; yet, you have given us your perfect love that casts out all fear and you have left us your peace that transcends all understanding. In these uncertain times, send us your Comforter, O God, so that we may be assured of our communion with Jesus Christ, the one who is the Prince of Peace. Give to us that peace the world cannot give so that our minds may be fixed on your goodness and beauty, and our lives on the doing of your will. Deliver us from all fear and strengthen your Church so that your people may perfectly love you and worthily glorify your name throughout all the earth. We ask all of this in the holy and most precious name of Jesus Christ, the one whose coming sets all things right. Amen.

Dr. Mike Voigts, faculty – 3/20/2020
Almighty God, our Heavenly Father, the Savior of our souls and the Holy Fire of our lives, we come before you as a seminary community scattered around this world you created to center our hearts on You. We're facing a global situation that's new to our generation, but certainly not new to You or to Your Church. May we follow the example of those in the Body of Christ who have gone before us during their own times of global strife. May Your loving presence shine through us as we represent you in the anxious, unsettled world around us. We celebrate that despite our isolation from each other physically, we remain united in You, Lord, no matter where we are. You are the great strength of our lives, the hope of the world, and we put our trust in You. In the Name of the Father, the Son, and the Holy Spirit, Amen.
Molly Ye, student – 3/19/2020
Heavenly Father, We trust that you are a good good father toward your children even though we couldn't understand all the sufferings among and around us. There are mysteries that we as fallen beings could not comprehend; yet your love has been shown fully through Jesus and the cross. You loved the world so much that you sent your one and only son to bear our sins and burdens. We are not alone because you, Jesus, suffered, too; yet you did not sin at all (unlike us… forgive us!). You are not ignorant of pain, sorrow, loneliness, misunderstanding, isolation, denial or any kind of discomfort—because you walked through all and more. So we look upon to you for comfort, healing, restoration, justice, hope, and all the heavenly gifts and blessings that you have been granting to us everyday of our lives. Among our sufferings, we want to declare again to ourselves and to the world that you are the caring creator of the whole earth, the loving and kind father, the eternal covenant and promise keeper, the ultimate ruler of all the time and human history—each nation, people, tongue and individual souls. We are your people and children, and we put all of our trust and hope in you alone, forever and ever. Amen!
---
Dr. Ruth Anne Reese, faculty – 3/18/2020
"Lord God Almighty, grant your people grace to withstand the temptations of the world, the flesh, and the devil. Free us from the lie that our life rests solely in our own hands and remind us that the eternal life you give is life in your presence now and always. Give us grace to follow you, the only true God and the giver of life, through Jesus Christ our Lord. Amen." (Modified from a Lenten prayer in the Anglican Alternative Service Book)