Meet our Team
Community Formation Team Members
Rev. Nicole Sims
Director of Community Formation
nicole.sims@asburyseminary.edu
|
859.858.2331
Nicole Sims joins the leadership of the Community Formation Team with a diverse cross-cultural and ministry background having served as a missionary in Germany, the United Kingdom, Ghana, and the Philippines, as well as, pastoring in the United States. Nicole grew up on a farm in Iowa and is a graduate of Asbury Theological Seminary, where she met and married her remarkable husband, Kirk. Nicole and Kirk have two sons, Aidan and Eli. She particularly enjoys the Wilmore sunsets, a good belly laugh, and anything with chocolate. Nicole is glad to be serving the Asbury Theological Seminary team as we together, fix our eyes on Jesus!
Mr. Andrew Neely
Associate Director of Community Formation
Andrew Neely is currently enrolled in the Masters of Ministry program with an emphasis in pastoral care, as well as the Masters Organizational Leadership. He is the chaplain for Newton Grice student dorm located in Wilmore, KY in the heart of bluegrass country. Andrew is passionate about the new and returning student's formation and is receptive to his personal transformation by the Holy Spirit. He is devoted to recovery ministry, leadership, and disaster relief. Andrew enjoys athletics of all kinds, worshipping, basking in God's creation, and spending time one on one with his brothers and sisters in Christ! Andrew is currently serving on the leadership team at Kingdom Life Fellowship in Nicholasville.
Dr. Medine Keener, Ph.D.
Pastoral Care Coordinator
medine.keener@asburyseminary.edu
|
859-858-2315
Medine Moussounga Keener is a daughter of Congo Brazzaville, Central Africa; wife of Seminary professor and NT scholar Craig Keener; mother of David and Keren. As the Pastoral Care Coordinator in the Office of Community Formation, Medine brings a cross-cultural perspective to formation issues, often recalling an African wisdom proverb to help solve a dilemma. Medine's deep faith and wonderful laugh are two of her great gifts, often served alongside a loaf of home-made bread or the fruit of her garden.
Mrs. Laura Hunter
Kalas Village Community Mentor
Laura and her husband, Dave are both graduates of ATS. They have 5 children, 4 more children through marriage, and 7 grandchildren. Dave is a Mental Health Counselor and retired Army Chaplain. Laura leads the Children's Formation program on campus and ministers to the families in Seminary Housing. They have been married and in ministry together for 39 years.
Dr. Chris Coppernoll
Kalas Village Community Mentor
Dr. Chris Coppernoll is the Associate Director of Community Formation at Asbury Theological Seminary. He has a Doctor of Ministry from Truett Theological Seminary at Baylor University. He directs Men's Formation and The Healing Community at Asbury and his greatest passion is seeing the Asbury community grow to maturity in Christ. Before planting a church in New York, Chris earned a Bachelor's degree from Berklee College of Music and worked in Nashville's Christian music industry. He founded the Soul2Soul Radio Network and authored six books with Thomas Nelson, Howard Publishing, and David C. Cook. He is married to a celebrated novelist, Christa Parrish, and together they have four children – Gray, Jacob, Claire, and Noah.
Mrs. Sarah Evans
Renewal Retreat Coordinator
Sarah and her husband, Alex, have come to Wilmore so that Alex can pursue his Master of Divinity. However, Sarah is no stranger to Wilmore. She attended Wilmore Elementary when her father pursued his degree at ATS, and then she returned to pursue her bachelor's degree at Asbury University. Sarah loves being a part of the Community Formation family as Renewal Retreat Coordinator. When she's not in the office, Sarah can be found taking a walk, reading a good book while enjoying a local coffee shop, or exploring the nearby cities and towns with her husband.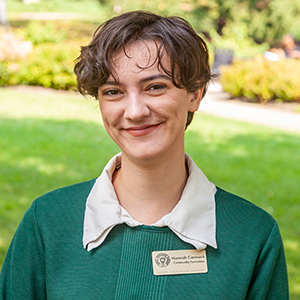 Mrs. Hannah Carmack
Childcare Facilitator
Hannah Thibaudeau-Carmack serves on the Community Formation Team as the Childcare Facilitator. She received her Bachelors of Arts from Asbury University, where she met her husband Chad. Chad and Hannah also lead the Youth Group for the Kalas Village Youth together. Hannah felt a call on her life to serve children in middle school, when she volunteered with her church's VBS and further went on to serve regularly in the church nursery. She is passionate about showing God's love to children and helping cultivate their spiritual lives.
Mr. Ram Budhathoki
International Student Worker
Ram Budhathoki received his Masters of Divinity from Trinity Theological College in Singapore and is currently pursuing a Ph.D. Intercultural Studies at Asbury Theological Seminary. Before coming to Asbury, Ram served as the Principal of Nepal Ebenezer Bible College for eight years. At the same time, he also served as a pastor of Srijana Church, Kathmandu. Born and brought up in a beautiful mountain village in Nepal, Ram loves to be in nature and enjoys hiking. God's beautiful creation offers a plethora of spiritual formation images, says Ram. From his small town, Ram enjoyed the majestic view of some of the highest mountains in the world. He missed it very much. Ram is married to Adna Thapa, a loving mother, committed disciple of Christ, and gifted worship leader. They are blessed with two boys, Jason and Nathaniel. For Ram, the faith community plays a vital role in believers' mutual growth in their spiritual lives. Therefore, he enjoys being a part of the Community Formation Team which fosters spiritual transformation in the community.
Ms. Emily Mahoney
Student chaplain
Emily Mahoney is in her second year of a Master of Arts in Theological Studies focusing on Philosophy and Apologetics. She is serving as a student chaplain for Bettie Morrison Hall as well as central campus housing for women. She is originally from Middle Tennessee, where she studied for her bachelor's in psychology at Trevecca Nazarene University. Following graduation, she worked for a few years studying Alzheimer's disease before joining the Asbury community. Emily is passionate about discipleship, people growing closer to Jesus, thinking deeply about things, and growing relationships (hopefully over a good cup of coffee or tea)!
Mr. Zaragosa Morales
Student chaplain
Zaragosa Morales is from Indianapolis Indiana, and is the Student Chaplain for the Sundo Kim Dorm, currently pursuing a Master of Arts in Theological Studies. Previously graduated from Indiana Wesleyan University with a Bachelor of Science degree in International Relations & History, Zaragosa had planned to pursue a career in government and administration before God's call of discipleship and theological pursuit. He spends a lot of his free time with friends doing fun activities such as hiking, eating and board games, as well as pursuing his love for fitness, books, poetry and history. Zaragosa is very much a people-oriented individual and is excited to see what God has in store for the Asbury community and the Church as a whole.
Ms. Marybeth Scheibel
Student Chaplain
Marybeth is a Master of Divinity student in her second year at Asbury. She is originally from northwest Indiana and received her Bachelor of Arts in Pastoral Ministry from Lee University. Upon graduating from ATS, she plans to serve in pastoral ministry as an ordained elder in the United Methodist Church. Marybeth is excited to serve and walk alongside Asbury students this year as they learn and grow in their relationships with Christ and one another! She is passionate about social justice, meeting new people, homemade pizza, and good coffee.
Mr. Josiah Williams
Student Chaplain
Josiah was raised in South Georgia. He is currently a second year Master of Divinity Student. He received his Bachelor's Degree in Christian Studies/Music from Reinhardt University. Josiah is passionate about equipping God's people and going after the lost who are desperately in need of Christ's love.He is currently pursuing ordination as a pastor in the Methodist Church. Josiah loves kayaking, making music, hiking, and fellowshipping with and edifying other members of the body of Christ.