Endowed Chair of Theology Named in Honor of Tim and Julie Tennent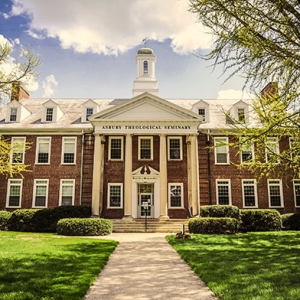 Asbury Seminary names the recently funded Chair of Theology the Timothy C. and Julie M. Tennent Chair of Theology in honor of President and Mrs. Tennent's continued commitment to the mission of the Seminary and the global church. The endowed chair is a $2.5 million Hundredfold Campaign initiative and was funded by generous friends of the Seminary. In response to the donor's request, the Board of Trustees unanimously voted to name the chair in honor of Dr. and Mrs. Tennent in recognition of their service to the global church.
"Julie and I couldn't have been more surprised at the donor's request or the board of trustees' decision to name this chair in our honor," Dr. Timothy C. Tennent, President of Asbury Seminary, said. "We are humbled by this recognition and grateful to the generous friends of the Seminary who have funded the chair of theology. We pray that God will use this blessing to further spread the gospel around the world."
President Tennent has given his professional life to the preparation of students in historic Christian orthodoxy in the Wesleyan theological tradition, both in the United States and abroad, particularly in India. He and his wife, Julie, have been voices for Wesleyan theology in the church around the globe, through their books, articles, studies of the Scriptures, and the promotion of hymnody.
"The gracious provision of funding for this position in Wesleyan and systematic theology is arguably a watershed for future kingdom and Asbury Theological Seminary influence," Dr. Doug Matthews, Provost and Senior Vice President of Academic Affairs, said. "To paraphrase and slightly modify Archbishop Temple, 'Philosophers and theologians rule the world—500 years after they are gone.' Sound theology may never have been more essential than today, and connecting the eternal verities of Scripture and historically orthodox theology to the present and future challenges, perplexities, crises, and opportunities may largely determine the future of Christian ministry and mission."
The Hundredfold Campaign supports worldwide revival and renewal to continue to prepare "theologically educated, sanctified, Spirit-filled men and women to evangelize and to spread scriptural holiness throughout the world." The funding of the Endowed Chair of Theology will attract the most respected and gifted professors to teaching posts on academic campuses and further enable the Seminary to train graduates in the Wesleyan tradition so that they can serve in a variety of contexts.
"On behalf of the trustees we congratulate Timothy and Julie Tennent on the much-deserved naming of the Endowed Chair of Theology approved by the board," Dr. Joseph Harris, Chair of the Board of Trustees, said. "This unanimous recognition honors their faithfulness and dedication to the Seminary and their tireless example of Wesleyan Holiness and missional integrity."